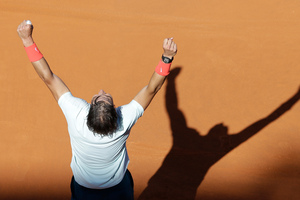 Roger Federer has hailed Rafael Nadal's barnstorming return to duty as "amazing" before turning his attentions to his own ironman efforts - which see him playing in a 54th consecutive grand slam event at the French Open, which starts tonight.
Nadal, bidding for an unprecedented eighth French Open title, is the overwhelming favourite, having won six titles in eight finals since resuming his career after a seven-month injury lay-off.
"His level of play compares to what he's done always. I think the results show how good he's playing. It's nice to see him so strong," said Federer, who got a close-up of that strength in a Rome Masters final mauling last weekend. That took his career record against Nadal to 10 wins against 20 losses.
"You know, eight out of eight finals of eight tournaments. It's amazing. I'm sure he's very happy, and super confident going into the French Open."
Federer won the title at Roland Garros in 2009, the year when Nadal suffered a shock fourth-round loss to Robin Soderling - still his only defeat in 52 matches on the Paris red clay. Nadal went on to skip Wimbledon that year, tearfully renouncing his All England Club title.
The Spaniard's second-round defeat to Lukas Rosol at Wimbledon last year then meant more rehabilitation with Nadal missing out on the Olympics, US Open and Australian Open as he spent seven more frustrating months nursing his knees.
"He only came back when he was 100 per cent. I mean, looking back, he did all the right decisions to take his time. He's healthy, he's fit, hopefully in no pain. Then can he also keep it up on other surfaces? That will be the next question for him," said Federer.
By comparison, Federer, with his 32nd birthday fast approaching, has enjoyed a relatively injury-free career and this French Open will be his 54th successive major, putting him just two behind the record held by South African Wayne Ferreira.
"It's incredible. I never thought I was going to play that many, have that many opportunities to do well at the slams. I'm happy about it, but they don't buy me victories," said Federer.
If Federer and Nadal are happy souls entering the contest at Roland Garros, Novak Djokovic is more guarded. He and Rafael Nadal may be on course for potentially the most talked-about clash at the major, but the world No1 Serb wanted the silent treatment to be applied re Nadal. Djokovic, the top seed, and Nadal, the third-seeded, seven-time Roland Garros champion, have been placed in the same half of the draw, which means that one of them is condemned to miss the June 9 final.
Having lost last year's title match to the Spaniard, as well as all three of the pair's earlier meetings in Paris, Djokovic told reporters he would not take questions on the prospect of another match-up with Nadal.
"Novak has requested he would like to answer only questions about his first round opponent, nothing else to do with the draw at all, top half, bottom half," said a tournament news conference moderator.
"And he's asked his team not to mention anything about the draw, either. If you could respect that request. Thank you very much."
Australian Open champion Djokovic was happy to talk up his own chances of winning the tournament, the only major missing from his collection. The world No1 started the claycourt season in impressive fashion, even ending Nadal's hopes of a ninth successive Monte Carlo title in a straight-sets final win.
"I won a Grand Slam. I won Monte Carlo. That was important for my confidence level. Prior to Roland Garros, that is the most important tournament on clay, and I won against the best player on this surface, Nadal. So that win against him can give me the necessary self-belief prior to this tournament."
Djokovic begins his French Open campaign against Belgium's David Goffin who took a set off Roger Federer in the last 16 in 2012 after coming through qualifying.
Meanwhile, Serena Williams - a first round loser at Roland Garros last year, sparking a phenomenal run of form which took her to Wimbledon and US Open titles - has a new target in sight. With 15 singles grand slam titles, she is just three shy of legends Martina Navratilova and Chris Evert, who are tied for fourth on the all-time list.
- AFP