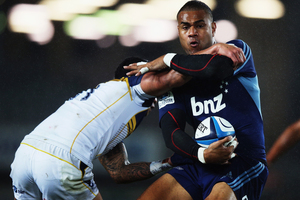 Wet-weather footy, real rugby where the age-old tenets of ball security, discipline, defence and territory held true.
It was that sort of night at Eden Park, at least for the opening quarter as the Blues endured another night of difficult rugby conditions.
They were nothing like the extreme weather the All Blacks endured at Stradey Park in Wales in 1989, some of the rippers Athletic Park crowds used to endure or the fearsome cold and sniping rain in Christchurch for the opening 2005 test against the Lions.
But the rain and swirling gusts were unpleasant enough to make it awkward for the opening quarter of the Blues latest clash with the Brumbies.
It was a serious test for the Blues back three, a trio of Charles Piutau, Frank Halai and George Moala whose usual rugby thoughts focus on attack and countering possession kicked to them.
Last night it was about survival and security and for national training camp members Piutau and Halai, a further inspection of their range of skills.
While Moala had a few dicey moments including one spill which resulted in a spectacular ice-skating try to Nic White, the would be All Black duo were rock solid.
They plucked everything the Brumbies kicked to them. Sometimes they leaped in the air to wrap their arms around the ball, while on a few others they had time to stand their ground for an easier collect.
Halai has been strong on the right flank in his debut season for the Blues and been the leading tryscorer in the Super 15. His instincts have been convincing and his positional play has improved markedly.
Several times in games he has been forced to defend an under-manned blindside and been able to cope with the situation. His duties last night were more mundane.
Take the high ball, deal with wipers, roam deeper as a deterrent to the Brumbies preferred kicking plans. He read and understood his homework.
The enterprising Piutau was equally sharp. His impulses are all about running and attack but he does have a sledgehammer boot when he needs to escape dire trouble.
He is calm under pressure and showed all those necessary characteristics as he was peppered early with a range of kicks he had to defuse. He nailed them all before a rare blip after the break when he seemed to be thinking of his next move rather than claiming the ball.
Fortunately it went backwards and Piutau charged upfield in another of those clumping sidestepping charges which are so dangerous against inattentive defenders.
He is a serious package of collective talent and must be putting some heat on the incumbent test fullback Israel Dagg whose patchy form for the Crusaders is a combination of a lack of help around him and his efforts to try too much.