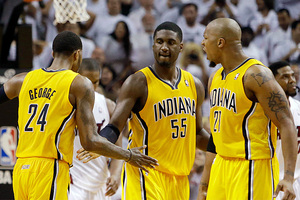 The Indiana Pacers have levelled their NBA Eastern Conference Finals series with the Heat, stealing game two on Miami floor.
The Pacers have won game two 97-93 to level the series at 1-1.
Centre Roy Hibbert had 29 points and 10 rebounds in the win.
Hibbert says it's a huge win after going down in overtime, also in Miami, in game one.
"I think that we learned from it. We tried to fix our mistakes and we went out there and played a hard fought game. The Heat are tremendously talented and we're happy to get a split."
Game three is in Indiana on Monday.
Indiana is yet to lose on home court in this year's playoffs.