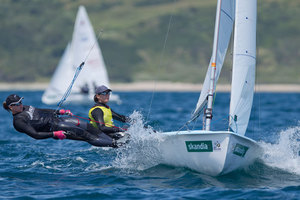 New Zealand sailors are back in the hunt for medals at the Delta Lloyd Regatta in the Netherlands with three crews lying in the top two across three classes with just two days of racing remaining.
Jo Aleh and Polly Powrie are 10 points clear in the women's 470, Andy Maloney has climbed to second in the Laser event and the men's 470 pairing of Paul Snow-Hansen and Daniel Willcox have also improved to second after some excellent races overnight (NZT).
It was another freezing day on the water but conditions allowed for a full schedule of three races in each fleet at what is the second of five regattas that make up the Eurosaf Champions Sailing Cup.
Aleh and Powrie took two seconds and a race win to open a commanding lead on their closest rivals.
"After we got over the shock of the cold, or went numb, we managed to get through three races,'' they said. "The wind was a little shifty and crazy, with some big rain squalls coming through all morning.
We had some mixed races, with the results showing a 2, 1, 2, however, we were up and down at times and made a few more mistakes than we would have liked.''
Like Aleh and Powrie, Maloney won gold at the last round of the Eurosaf Champions Sailing Cup recently in Italy. The Laser campaigner is showing good form again and is just one point behind leader Tom Burton from Australia. Fellow Kiwi Sam Meech is ninth.
Snow-Hansen and Willcox were again consistent in their three races, securing third, fifth and third. They haven't finished outside the top five in three days of racing.
Racing continues tonight and the New Zealand sailors need to finish in the top six of their fleets to progress to the medal race, which carries significantly more importance than the other days.
New Zealand results after day three of the Delta Lloyd Regatta in the Netherlands overnight (NZT):
Women's 470: Jo Aleh and Polly Powrie 1st (3, 1, 1, 1, 1, 2, 1, 2)
Men's 470: Paul Snow-Hansen and Dan Willcox 2nd (3, 5, 2, 3, 3, 5, 3), James Turner and Carl Evans 12th (13, 3, 11, 12, 17, 6, OCS, 17)
Laser: Andy Maloney 2nd (9, 12, 1, 1, 3, 2, 1, 17), Sam Meech 9th (10, 15, 3, 7, 1, 11, 3, 24)
Women's RS:X Natalia Kosinska 9th (12, 10, 6, 3, 8, 10, 9, 12, 16, 7)
- APNZ