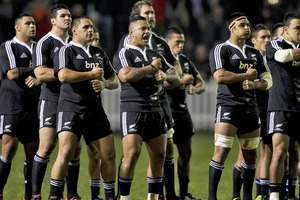 The Maori All Blacks will play against Canada and the United States in a two-match North American tour announced by New Zealand Rugby and AIG today.
The Maori All Blacks take on Canada in Toronto on 3 November and the USA Eagles in Philadelphia on 9 November.
New Zealand Rugby Chief Executive Steve Tew said the matches represented an exciting opportunity to take a special New Zealand team to North America.
"The Maori All Blacks have a unique history in rugby combined with a rich cultural identity," Tew said.
"We had a wonderful taste of the style of rugby played by both Canada and USA when they played here in Rugby World Cup 2011. New Zealanders got behind both teams during that tournament, which really added to the experience of players."
The Maori All Blacks played Canada last year winning 32-19.
"We are incredibly fortunate that in addition to our special relationship with principal partner adidas, AIG's arrival as a major global sponsor of our national teams has allowed us to achieve a programme of this calibre," Tew said.
"This is an exciting new step for us and we thank AIG for the specific investment in the Maori All Blacks to support an annual international programme for the next five years."
- nzherald.co.nz