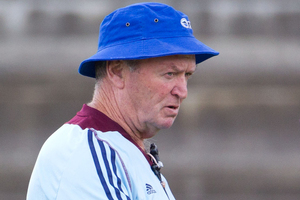 Sanzar has laid a misconduct complaint against Blues assistant coach Sir Graham Henry after he heavily criticised match officials following his side's loss to the Crusaders in Christchurch last weekend.
He suggested, among other things, that the television match official was "blind'' and prop Wyatt Crockett "got away with murder".
Sanzar said in a statement today that it had brought a misconduct complaint against the World Cup-winning coach, which had been referred to its judicial officer Jannie Lubbe SC.
"In bringing this complaint, Sanzar will allege that the comments made amount to Misconduct under Rule 10 of the Sanzar Disciplinary Rules and breach the Sanzar Code of Conduct Section 8.3 (a) and (e).''
Sanzar said it would not comment further.
The hearing will take place via teleconference on Sunday at 6pm NZT.
Henry didn't hold back at a media scrum at Blues headquarters on Tuesday when he said he believed the Blues should have been awarded a penalty try and that Frank Halai definitely scored the try ruled out by TMO Keith Brown in the second half of the 23-3 victory by the Crusaders at AMI Stadium.
He called the decision "ludicrous''.
"I could see it and I'm blind,'' he said.
Henry called the decision by referee Glen Jackson to sinbin Blues lock Culum Retallick for an intentional knock-on unfair, saying the player "is not that good, he's not that capable [of doing that], all due respects to Red, and he'll understand what I'm saying''.
Referring to Halai's attempt to score among a tangle of Crusaders' bodies, Henry said: "It was obvious to me. I don't know, he's probably a blind TMO is he?''
In his parting shot, Henry said it wasn't his place to raise the issues with Sanzar referees' boss Lyndon Bray, saying with tongue in cheek: ``I'm just trying to keep a low profile as you can see and not be controversial. But I've enjoyed talking to you and I think we should stop that now.''
- APNZ