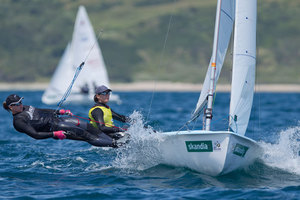 Olympic champions Jo Aleh and Olivia Powrie extended their lead in the women's 470 fleet in the Delta Lloyd sailing regatta in the Netherlands overnight (NZT).
The pair clocked up two more race wins in the relatively small but very international fleet of just 13 boats to take a four-point lead as the qualification series wraps up and the regatta moves into two days of finals ahead of Saturday's medal races.
Bitter conditions meant the beanies were back out in Medemblik, the Netherlands, for day two of the regatta, which is the second round of the Eurosaf Champions Sailing Cup. Aleh and Powrie reported it was so cold they struggled to hold on to the ropes.
After long delays and a late start to racing, the NZL Sailing Team hit the water for racing and returned some solid results.
Paul Snow-Hansen and Dan Willcox picked up two thirds in the men's 470 to remain in touch of the Croatian and Australian crews in front.
Carl Evans and James Turner are also 11th in the 25-strong fleet.
Andy Maloney had a great day in the frigid conditions with a race win and a third in the Laser fleet to rocket up the rankings from ninth to third overall at the end of day two. Teammate Sam Meech made similar gains with a seventh and a race win to climb to seventh overall in the 70-strong fleet.
Rounding out the Kiwi contingent, Natalia Kosinska is sitting in eighth in the RS:X at the end of day two.
The scoring format at 2013 Delta Lloyd Regatta mimics that used recently at Lake Garda for the opening regatta of the Eurosaf Champions Sailing Cup where results in these early races matter less than the heavily weighted medal races on Saturday.
However, in each of the events featuring New Zealanders, only the top six ranked crews at the end of day four get to race the medal races.
Results after day two (of five)
Women's 470: 1 Jo Aleh and Olivia Powrie, 470W (3, 1, 1, 1, 1)
Men's 470: 3 Paul Snow-Hansen and Dan Willcox, 470M (3, 5, 2, 3, 3); 11 James Turner and Carl Evans 470M (13, 3, 11, 12, 17)
Laser: 3 Andy Maloney, Laser (9, 12, 1, 1, 3); 7 Sam Meech, Laser (10, 15, 3, 7, 1)
Women's RS:X: 8 Natalia Kosinska RS:XW (12, 10, 6, 3, 8, 10, 9)
- APNZ