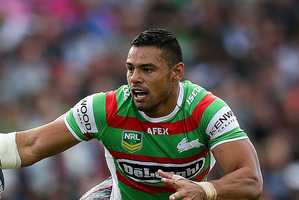 Auckland-born NRL star Ben Te'o has been accused of punching a woman in the face, leaving her with a black eye and facial injuries.
Australia's Channel 9 this evening aired an interview with the alleged victim, in which she says: "I was laying in the hallway with blood everywhere ... I could have been dead for all they know."
The incident allegedly occurred on April 20, when Te'o and Queensland team-mate Darius Boyd visited the home of their former Broncos team mate Corey Norman.
The woman reportedly returned to Norman's Brisbane home, where Te'o lived during his time with the Broncos.
It is alleged an altercation broke out between Te'o and the woman, who was left with bleeding near her left eye.
One of the players immediately fled from the premises.
News Limited reported that Norman, who is also a New Zealander, made a 000 emergency call.
Te'o, who grew up on the Hibiscus Coast and played for the New Zealand Under-16 and Junior Kiwis sides before moving to Australia and switching his playing allegiance, denies the allegations.
"I understand that the news story contains a claim by a female that I was involved in an altercation with her at a house in Brisbane," he said in a statement.
"I have not been informed of the exact nature of the news story, however I am able to refute entirely any suggestion that I acted improperly.
"On the night in question, I found myself in unfortunate circumstances that were not caused by me and I acted appropriately to deal with a difficult situation.
"I called the police to report the incident and have the female removed from the house.
"I have not pressed charges against the female and to the best of my knowledge no charges have been laid against me.
"I don't wish to go into any further detail about this matter because I regard the incident as unfortunate and something I wish to leave behind me."
Queensland Police issued a statement this evening saying the woman no longer wanted police action.
They confirmed they attended an incident but said the matter was no longer under investigation.
NRL chief executive said an independent investigation would be carried out, ABC News reported.
Details of the alleged incident have emerged just a week after the NRL celebrated its Women in League round.
Earlier this season South Sydney cleared Te'o of any wrongdoing after Fijian rapper and body building MC Fortafy alleged on Twitter that he been assaulted by the league star.
Samuel Ratumaitavuki, aka Fortafy, alleged he was "jumped"by Te'o, the footballer's brother Sam and another man.
That accusation followed an incident in Brisbane in 2011 that saw Ratumaitavuki and James Soeli Kisina - drug smuggler Schapelle Corby's half-brother - convicted of breaking into Te'o's flat and assaulting his two younger brothers.
Ratumaitavuki's ex-girlfriend had told him she was pregnant and believed Ratumaitavuki to be the father, however she also claimed to have had sexual relations with a number of other men, including Te'o.
Ratumaitavuki was sentenced to 18 months' imprisonment, suspended for two years, while Kasina was ordered to serve at least three months of a six month sentence in prison for breaching a 2006 suspended sentence for a second time.