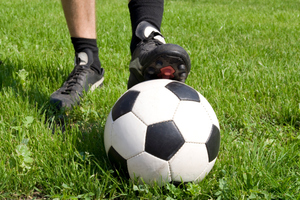 New Zealand-based All Whites and fringe internationals will get a chance to stake claims for inclusion in the squad for November's intercontinental playoff when a New Zealand A side take on Jordan at North Harbour Stadium on June 4.
New Zealand Football yesterday confirmed the match will take place and that All Whites assistant Neil Emblen will coach the side.
Jordan, ranked 77 in the world, will play Australia in an Asian World Cup qualifier in Melbourne on June 11 and will use the match against the New Zealand side as preparation.
Jordan beat Australia 2-1 in Jordan in September and currently sit one point ahead of Australia but have played one more game than the Socceroos. Japan lead group B with 13 points from a possible 18, with Jordan on seven. The top two sides in the group will qualify directly for next year's World Cup in Brazil.
Jordan will also play Libya in Amman on May 27 prior to arriving in Auckland on June 2.
NZF have a relationship with the Jordan Football Association dating back to 2009 when the All Whites travelled to the Middle East for an international match with the kingdom won 3-1 by New Zealand.
The New Zealand A side is expected to consist largely of New Zealand-based players from the A-League and ASB Premiership, along with members of the Junior All Whites preparing for the Under-20 World Cup in Turkey.
The likes of Andrew Durante, Ivan Vicelich, Ben Sigmund, Jeremy Christie, Aaron Scott and Jake Butler.
"It's a game that we want to play and we have a relationship with Jordan off the back of the 2010 campaign when we played against them before the intercontinental playoff with Bahrain,'' NZF chief executive Grant McKavanagh said.
New Zealand last turned out an `A' team in Melbourne last year, when a shadow Olympic side, boosted by the inclusion of Aaron Clapham, Jason Hayne, Cole Peverley and Cole Tinkler took on Saudi Arabia, who were also preparing for a crucial qualifier with Australia.
Meanwhile,NZF continue to search for opponents for the All Whites with the Fifa window for international matches in August, September and October possibilities in the build up to the intercontinental playoff against the fourth placed Central and North American side.
Six Concacaf sides are still in contention and nine fixtures are scheduled for the June window, including the blockbuster USA and Mexico clash. Honduras currently occupy fourth position on goal difference with Costa Rica and the US also on four points. Panama lead the group with five points, while Mexico and Jamaica are on three and two points respectively.
- APNZ