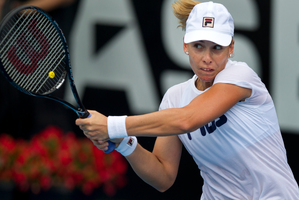 New Zealand No 1 Marina Erakovic insists her confidence hasn't been dented by a poor run of results heading into the French Open.
Erakovic has been beaten 6-7 6-3 7-6 by Romanian fifth seed Monica Niculescu in the first round of the Strasbourg WTA tournament.
She has won only one singles match in seven tournaments since capturing her maiden WTA title in February but says the results aren't reflecting how well she is hitting the ball.
"I've been playing petty well actually,'' Erakovic said. "Last week I took a practice week and I was hitting the ball really well. And a lot of three matches that I've lost have been very tight - quite a lot of three setters.''
Her form slump has been noticeable, despite winning her maiden career title in Memphis in February, and she has dropped from 67 at the start of the year to 91 in the latest rankings.
Erakovic and doubles partner Cara Black are through to the second round of the doubles in Strasbourg.