Mangos reckons Bettor Cover Lover is ready to sparkle in her Jewels assignment.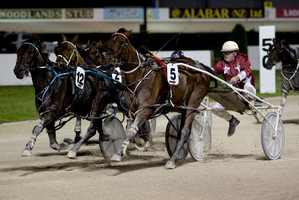 A morning at the beach may not be many people's idea of a good time at the moment but it put a smile on the face of trainer Brent Mangos.
Because it took just a few minutes' work there from his queen of pacing, Bettor Cover Lover, to confirm her Jewels campaign is back on track.
Bettor Cover Lover is one of the Fab Five, the totally dominant Harness Jewels favourites who look a class above their rivals and should win their group ones barring bad luck.
But while the other members - Christen Me, Adore Me, Terror To Love and Springbank Sam - have all had perfect preparations, Bettor Cover Lover's Jewels campaign hit a snag.
She raced below her best in the Messenger Pace on May 3 and was flat for a week after.
Mangos went easy on the great mare but wanted to see signs of real improvement when he took her to the beach for a searching hitout last Friday.
"I was rapt with how she worked, in fact she rarely works any better than that," said Mangos. "So I think she is right back where she needs to be.
"She is in Christchurch now and will trial there next Tuesday. That coupled with the travel will get her to the Jewels in the right condition."
Concerns over Bettor Cover Lover's Messenger run have seen her get out to as much as $1.80 in some markets, even though she is an Auckland Cup placegetter racing mainly intermediate-grade mares.
She contests one of three new 5-year-old finals to be held on Sunday, June 2, the day after the main Jewels programme.
While Bettor Cover Lover was never really in danger of missing the Jewels, another female harness star will definitely not be at Ashburton for her division.
Habibti will miss the 3-year-old trot after trainer David Butt confirmed she will stay in Australia, where she bolted away with the NSW Trotting Oaks on Saturday night.
Butt sent the filly there because she has four races, two against her own sex and all over longer distances, rather than the one-off lure of the Jewels, over the mile trip which doesn't suit her quite as well and also means taking on colts Royal Aspirations and Blitzthemcalder.
Habibti was still in TAB markets yesterday but is definitely not returning and will instead contest the NSW Trotting Derby this Saturday before heading to Victoria.
But after days of indecision, it appears New South Wales juvenile pacer Allblack Stride will stay on for the Jewels.
He arrived in New Zealand unbeaten and was a brave third in the Sales Series Pace but finished unplaced in the Sires' Stakes Final last Friday at Addington.
Initially his driver Luke McCarthy expressed disappointment at the performance and said Allblack Stride would return home but he is now unsure, with a final decision to be made today.
Meanwhile, some of the biggest names being set for Jewels glory will head to a mere $10,000 race at Addington on Thursday. Superstar 4-year-old Christen Me will use the minor meeting as his final blowout before starting a likely redhot favourite in his division of the Jewels.
Thursday's race will also contain Elusive Chick, who is the warm favourite for the 4-year-old mares' division and is back working well after a recent failure when below her best at Rangiora.
The barrier draws for the Jewels will be made on Friday, after which the markets will reopen.