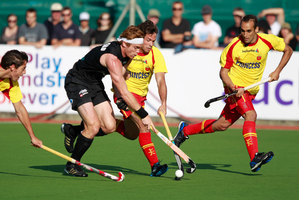 Korea have beaten the men's Black Sticks 2-1 in the fourth test at Pukekohe this afternoon (sun) despite an improved attacking effort from the Kiwis.
The Black Sticks worked hard in the second half to equalise, at times putting pressure on the Koreans, pushing forward and attacking with confidence.
But the Koreans were clinical in their defensive effort, consistently turning over the ball in the circle and taking possession.
"Today's performance was much better, we created more opportunities than in any other game so far - we created five or six very good chances. Even though it isn't reflected on the scoreboard, it was by far our best performance of this series,'' said Black Sticks coach Colin Batch.
"We go out to win and so are therefore disappointed in the two losses, but we are experimenting ahead of World League and I'm happy with what we are learning and the progress being made. Phil Burrows was back out playing today and as such an experienced player he brought a lot of structure to the game which really helped.''
New Zealand were the first to score with a penalty corner from Midlands player Andy Hayward in the 15th minute.
Korea's Sung Hoon Yoon scored in the 23rd minute from a field goal and it was backed up two minutes later when a goalmouth scramble led to Hyun Woo Nam taking a penalty stroke and finding the back of the net.
The tempo stepped up in the second half and although there were lots of goal-scoring opportunities from both sides, the score remained.
Batch is using the series to test combinations and structures ahead of World League Round 3 in Rotterdam next month.
Eleven players have under 20 test caps and this series is providing them with valuable experience.
The first two games against Korea were hotly contested and resulted in 1-1 draws, while Korea won the third test 2-0 yesterday.
- APNZ