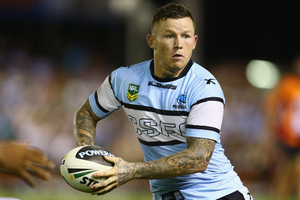 Canberra have fired a shot across the bow of Cronulla's Todd Carney, with back-rowers Josh Papalii and Joel Edwards set to zero in under his ribs to take the sting out of the star playmaker's attack tomorrow.
Raiders prop David Shillington says his side have learnt from their 44-22 NRL defeat to the Sharks in round eight last year when Carney ran amuck.
"We let him drift across field and he just played on his own accord there. Dropping blokes off, spinning the ball out wide and putting in kicks," Shillington said. "We just hung off him the whole time and gave him too much room."
The Raiders then tailored their defence to cut down Carney's time when they faced the Sharks again in round 20, with a 36-4 scoreline in their favour proving the tactic paid dividends.
"Joel Thompson and Papalii got stuck right into him and hit him under the ribs when he was passing the ball and applied a bit of pressure and it really quietened down his game," Shillington said. "This week, we'll be looking to have some inside pressure to make him play early, get stuck into him a bit and really take that sting out of his attack."
With Thompson sitting out tomorrow's match with a toe injury, Shillington said 24-year-old second-rower Edwards was the man to step up in his place.
"Edwards has shown he loves to put his shoulder in there and get aggressive in his defence, so he'll be a perfect match up there on Toddy," he said.
"I think that will be the key to bringing him down, having that edge defender putting a fair bit of pressure on him."
However, Shillington emphasised that their approach to Carney in defence wouldn't be the area where the game was won or lost, with in-form Sharks forwards Luke Lewis and Andrew Fifita also standing in their way.
"We've got to start with the forward pack," he said. "It's not just about shutting down Toddy Carney - we take down the forward pack first, hopefully."
Meanwhile, Cronulla chairman Glenn Coleman has quit the embattled NRL club after just two months in the job. Former Olympian Damian Keogh is expected to take his spot.
Coleman took over from predecessor Damian Irvine, who stepped-down in the midst of ASADA's investigation into drugs in sport.
Coleman was left as the only director not aligned with the Sharks Unity ticket - headed by three-time Olympian and former Sydney Kings basketballer Keogh - whose group swept to power in recent board elections.
He remained unchallenged as chairman but had differing views to the new board. He said he was leaving to allow the new board of directors to lead the club.
Coleman, who played 123 first-grade games for Cronulla, said he was happy to step back and concentrate on his business.
The new board is expected to ratify Keogh as chairman next week and appoint a new director in his place.
Cronulla are having an inconsistent 2013 season with the ASADA investigation proving a constant distraction to the players and officials.
- AAP