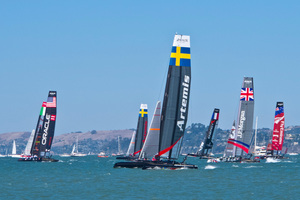 The NZL Sailing Team with Emirates Team New Zealand have confirmed they will compete in the inaugural Youth America's Cup, despite last week's tragic death of British sailor Andrew Simpson while training onboard Artemis.
The German entry in the Youth America's Cup decided to withdraw in the wake of the accident. The youth sailors are due to race in the AC45s as opposed to the much bigger and faster AC72s for the America's Cup proper.
"This last week after Artemis' tragedy in San Francisco has been tough on everybody, but we're still just as motivated to continue working toward flying the flag for New Zealand in September," New Zealand youth skipper Peter Burling said.
The 22-year-old and his London 2012 Olympic silver medallist teammate Blair Tuke will lead the team of under-25s which also includes Andy Maloney, Jono Spurdle, Guy Endean, Sam Meech and Jason Saunders. Together they will race under the burgee of the Royal New Zealand Yacht Squadron, a club with an enormous reputation on the international yachting scene.
The NZL Sailing Team with Emirates Team New Zealand are seeking $50,000 in sponsorship to help get them to San Francisco through a crowdfunding campaign on www.thrillpledge.com.
"We're tremendously appreciative for the help that ETNZ has provided our young team to date, including time on their AC45, coaching support and training advice," Yachting New Zealand chief executive David Abercrombie said. "There's a degree of public misconception about funding and the reality is that these young sailors cover their own costs for the Red Bull Youth America's Cup. Any support the public can contribute will make a huge difference to these young men."
The regatta takes place from September 1-4 in San Francisco during the break between the end of the Louis Vuitton Cup and start of the 2013 America's Cup finals. The young crews will race on the scaled down version of the America's Cup boats, the AC45 catamaran, and every sailor will be aged 19-24. Ten teams from eight countries have qualified.
- APNZ