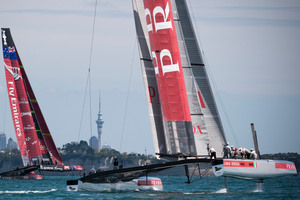 America's Cup organisers have confirmed this year's event will go ahead following the death of British sailor Andrew Simpson last week.
The double Olympic medallist died in a training accident with Artemis, after becoming trapped under the platform of the boat when the 72-foot catamaran flipped, casting doubts over the safety of the new class.
Tom Ehman, the Vice Commodore of the Golden Gate Yacht Club - the America's Cup Trustee - said the event remains on track, with all four teams, including Artemis, likely to compete.
"The America's Cup will go ahead this summer. We will see the world's best sailors racing at the highest level on one of the most iconic race tracks in sport," said Ehman.
The Golden Gate Yacht Club and regatta director Iain Murray have also appointed an independent review committee, which includes Auckland QC and Emirates Team New Zealand director Jim Farmer, to investigate the accident.
The panel, which will be headed by Murray, will look into the events leading up to Simpson's death and make recommendations to the sailing teams and race organisers about how to make sure racing is as safe as possible. The results of the review are expected within two weeks.
"The Committee brings immense experience and expertise to this Review. At a meeting in San Francisco this morning, the teams expressed unanimous support for this Committee and this process," said Ehman.
The event is due to get under way in seven weeks with the start of the Louis Vuitton Challenger series.