Part-owner of star youngsters slams decision to send swabs to Hong Kong.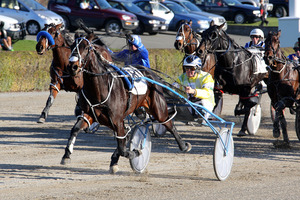 Adore Me has been Delightful Christian's nemesis all season but now the man behind the champion filly is defending her great rival.
Veteran owner, stud principal and retired veterinarian Charles Roberts is enjoying a run of form most owners could only dream about, with shares in both of harness racing's young champions, Adore Me and Christen Me.
The winner of nine of her 10 starts, Adore Me will dominate betting on the $100,000 New Zealand Oaks at Addington on Friday after drawing barrier two.
However, Roberts is just as concerned about the fate of Delightful Christian in the Harness Jewels last year as he is with how Adore Me performs against her on Friday night.
Delightful Christian's effortless win in last year's Harness Jewels at Cambridge is under threat after she returned a positive swab, with the matter having already been through the courts.
A judge will rule on her disqualification, which stems from Delightful Christian being treated with a popular tonic commonly recommended by vets at the time, which left her with minute traces of arsenic in her drug test.
The arsenic would not have been picked up had the testing been conducted in New Zealand but because the Harness Jewels swabs were sent to Hong Kong, Delightful Christian's came back positive because of the increased sensitivity of their testing.
Roberts, who has no connection to Delightful Christian apart from her rivalry with Adore Me, says that is not fair.
"I was part of helping set up raceday swabbing of horses in this country," says Roberts, who was a practising veterinarian for almost 50 years.
"And I can tell you this was not what drug testing in this country was set up for.
"Firstly, arsenic is not a stimulant for horses and, secondly, I think it is wrong these swabs were sent to Hong Kong and that filly got a positive because of that, whereas she wouldn't have down here. I think they are being hard done by."
Roberts' views are shared by many in harness racing, with Delightful Christian's part-owner John Green, a former big buyer at the yearling sales, saying he is leaving the industry because of the case.
Racing bosses, at HRNZ and Racing Integrity Unit level argue that arsenic is a prohibited drug in many if not most racing jurisdictions and that the onus is on trainers to present horses to the race drug-free.
But that doesn't wash with Roberts, who says the case goes against the ethics of why drug-testing was set up in the 1960s - to catch cheats.
The ruling on the case was expected to already be announced, with Delightful Christian coming up to the first anniversary of her controversial victory.
That win is something her connections won't expect her to repeat on Friday, where she has drawn the second line against Adore Me in a race where the champion could start as short as $1.10.
The last premier meeting before the Jewels on June 1-2 sees the best 2-year-old pacers also clash in the $180,000 Sires' Stakes Final.
Once again, Aussie superstar Allblack Stride has drawn the outside of the front line against a talented local crop.
The night will also feature trotting great Stig, as he tries to end his rollercoaster season with his third win in two weeks.