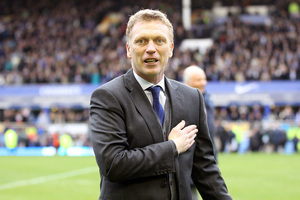 When David Moyes walks into the hall at Old Billingsgate in the City of London next week, at the League Managers' Association awards dinner, his status among his peers - most of them British and working in the Football League - will already have been transformed.
Not just that he is the new manager of Manchester United but something more than that. A manager who has been given what every one of his fellow managers craves as they consider the hierarchy above them, which is to say a chance, an opportunity, a shot at the big time.
There is no denying Moyes' talent and his sheer bloody determination to pull Everton up, an incremental improvement year after year. They defied their modest net spend on transfers and, in doing so, they defied the brutal financial logic of modern English football and much of that they owed to Moyes' endeavour.
But even the great managers need an opportunity. Sir Alex Ferguson needed one when he was appointed by Aberdeen in 1978, having previously been sacked by St Mirren.
Arsene Wenger needed one when he was relegated with Nancy from the French championship in 1987. Rafa Benitez needed one after he won promotion from Spain's second division in 1998 with Extremadura and then went straight back down.
In English football, we have become so accustomed to writing off British managers or fretting over their perceived lack of big-club experience that the elite game has largely talked itself out of promoting them. It was for that reason that United's appointment of Moyes last week was such a welcome parting of the clouds over the native coaching fraternity.
It has got to the stage now where the careers of British managers have, on the whole, hit a glass ceiling, that Manchester City will have argued that there was no British option as they prepared to sack Roberto Mancini. With foreign owners and now, at City, foreign executives, they have little chance. Too many are not given the second and third chances that their European peers are routinely handed.
Since Moyes took Everton to that fourth-place finish in 2005, a feat unequalled by any manager working to a similar budget, Chelsea, for example, have appointed six managers, including Avram Grant, and not once do they appear to have considered Moyes. The assumption is that, for the big jobs, the overseas manager is simply a better option.
Yet in countries like Spain, France and Portugal, opportunity for young managers abounds. They give their brightest young coaches good jobs, and when they fail they give them another. After Wenger was relegated with Nancy he was immediately appointed by Monaco in the top flight. Within 12 years of his first day in the Nancy manager's office, he was moving into Highbury.
For Moyes, it has been 15 years since he took charge of Preston North End in what is now League One and yet, incredibly, there are still those who wonder whether the job has come too soon.
He might never have won a trophy at Everton - these days, very few do - but then he has never been relegated or sacked.
What United have done with the appointment of Moyes is look beyond the currency of trophies and seen the wider picture of a manager's career: the upward trajectory, the innate qualities and, yes, the promise. While, as ever, there are no certainties of success, the rationale is sound.
For an ambitious manager operating to the maximum of his abilities, the opportunity afforded to Moyes is something to be prized.
The reason it feels like a surprise is because top English clubs had previously given up on British managers for far too long.