Even opponents left disoriented as father of football leads final game at home ground in typical style, after 27 years.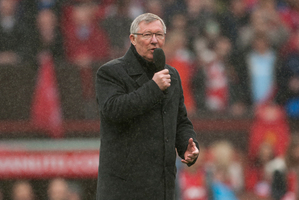 The 723rd and final home game of Sir Alex Ferguson's 9685 days as Manchester United manager was no local send-off. Part rally, part wake, this was a day when the whole English game will have felt uncertainty replace the old order of the elder statesman in his dugout.
In a frank television interview when it was all over, Ferguson revealed how the death of his wife Lady Cathy's sister earlier this year had turned his attention back to home. As the vast United family clap him into retirement, his deepest concern is with the woman who supported him through nearly 40 years in management, and the wider Ferguson clan, who joined him on the pitch to add a poignant private dimension to a very public ritual.
English football has changed seismically in the 27 years since Ferguson sent out a side to face Queens Park Rangers at Old Trafford in 1986. Grounds have become theatres, players have turned into industries and the sport has manufactured a whole new galaxy of celebrity.
But through all that time, Ferguson was in his lair, calling the shots, enforcing his ideas, setting the entertainment level in a country where sophistication was not the most highly prized aspect when he arrived from Aberdeen.
Across England, even those with reason to cheer his departure reported a sense of disorientation or loss. For nearly three decades Fergie has been the guardian of British football's warrior spirit.
Followers of the sport have seen him rise through all the levels and unite all those parts of the game.
Not since Bill Shankly has there been such a clearly identifiable father of football. While his battles with match officials and the media point to a renegade tendency in his make-up, few would dispute that he has also been the most charismatic and interesting leader in British sport over the last three decades.
United will change dramatically without his autocratic presence. For one, the commercial and marketing departments will probably feel emboldened to step up their onslaught after Ferguson bows at West Bromwich Albion on Monday. A challenge for David Moyes, the new man, will be to exert the kind of control Ferguson has been able to apply, for example, on pre-season tours and with the media.
The current master of Old Trafford has always protected the football, the raison d'etre. This is why he told his players on the pitch: "You know how good you are, you know the jersey you're wearing and you know what it means. Don't ever let yourselves down."
Robin van Persie, a relative newcomer in these parts, spoke gushingly of the "impact he's had on me". But it seemed significant that when he walked out for a thunderous ovation before the kick-off, Ferguson strode between two large DHL flags on poles. DHL are one of United's main sponsors and would not be denied their worldwide advertising splash.
These modern realities are an age away from Ferguson's world of talent cultivation, dressing-room camaraderie and expressive football. Though he has made his accommodations with commerce, football, to him, is a game of the heart and soul. Moyes will have to decide whether it is for him, too, or whether a more calculating approach would be more sensible, given the near-impossibility of matching Ferguson's drama output.
As if to confirm all the themes of his career in front of his disciples, one last time, Ferguson saw off another Manchester City manager, Roberto Mancini, dropped a troublesome star - Wayne Rooney - and made sure the magnificent Paul Scholes was given a proper Old Trafford salute before his second retirement. Finally, the home-grown player who best embodies his ideal of talent mixed with longevity, Ryan Giggs, came on for Javier Hernandez to play his own part in the valediction.
As Rooney was bombed from the 18-man match-day squad, a message from Cristiano Ronaldo flashed round the advertising boards: "Thanks for everything, boss."
The contrast between Ronaldo's warmth and the chill settling over Rooney could hardly be sharper. In his last game in his fortress, Ferguson was true to one of his firmest principles: he who steps outside the circle will stay out for as long as the boss decrees.
Providing the final Old Trafford flourish was a player who embodies the new culture, and who Ferguson made the world's most expensive defender. With time running out for a victorious send-off, Rio Ferdinand smashed in the goal that beat Swansea City 2-1 on the day when Mancini appeared to be impaled by his employers on the other side of town. City might have been burying bad news, but Ferguson will have felt he buried another challenger.
"When there were bad times the club stood by me, your job now is to stand by our new manager," Ferguson told his audience. His finger wagged just enough to tell them it was an order, not a request. This was his welcome present to Moyes.