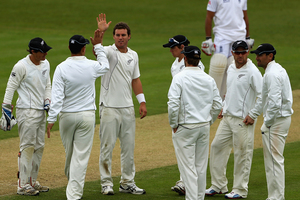 The final warm up match for the Black Caps against the England Lions has ended in a draw in Leicester.
Another dreary day of just 33 overs, which ensured New Zealand gained little from the test dress rehearsal.
New Zealand didn't get a second chance to bat as the hosts ended the match on 444/7.
There was time for Trent Boult (3-86) and Doug Bracewell (2-95) to confirm their form for the first test at Lord's, but also for Joe Root (179) and Jonny Bairstow (68) to imprint on their memories some powerful, well constructed strokes, before both fell to the seamers.
Root was eventually bowled by Bracewell while Bairstow fell LBW to Boult.
But that was the sum total of major success, as the Lions established an ultimately pointless advantage.
While the seamers hit the right notes, both Bruce Martin and Kane Williamson struggled to get on song.