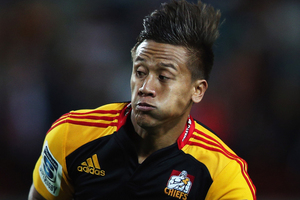 Tim Nanai-Williams is due to be released from Waikato Hospital tomorrow which is one piece of good news for the increasingly unlucky Dave Rennie and the Chiefs.
They are still winning - though Friday night's 22-21 victory over the Force at Pukekohe was unconvincing - and they are only one behind behind the Brumbies with a game in hand, but their casualty ward is becoming extremely full.
Nanai-Williams was admitted to hospital on Friday with a stomach ulcer. There is talk they could have been caused by the anti-inflammatories he has been taking for a constant groin problem, but that has yet to be proven.
Regardless, although he didn't require surgery he is on medication and will be out of action until after the June test window, which leaves the Chiefs extremely light on midfielders, although Charlie Ngatai is progressing well from a hamstring injury.
Richard Kahui has been ruled out for the season with a shoulder problem, with Gareth Anscombe, a first-five who has been making a fair fist of fullback, also out until July with a broken bone in his foot. Anscombe's injury meant Aaron Cruden, who is overdue a rest, had to wear the No10 jersey after initially being listed in the reserves.
Chiefs coach Rennie said he had looked to bring in a New Zealand player from overseas to replace Kahui, but was turned down by the New Zealand Rugby Union as it was after the April 1 cut-off.
"The expectation is we have to find someone in New Zealand to replace Richard and obviously we've already got Save [Tokula] in our ranks so the cupboard is pretty bare. If we lost another one we'd be under a bit of pressure,'' he said.
The NZRU's refusal to allow the Chiefs to sign a replacement is odd given the Highlanders signed No8 Mose Tuiali'i from his Japanese club earlier in the season. It appears it pays to get your injuries in early despite the competition running until August 3.
Rennie said Dan Waenga, a former Chiefs development player, would be called in to cover first-five in Anscombe's absence.
The presence of Bundee Aki, Ngatai's return and Tokula's solid performance against the Force in his sixth Super Rugby appearance for the Chiefs in four years means Rennie has adequate cover for what is an important game against the Hurricanes at the Cake Tin on Friday.
It's bad luck for former wing or fullback Nanai-Williams, who has been outstanding for the Chiefs this season, his attacking ability in midfield making the All Blacks selectors, who have midfield issues of their own, take notice.
"He's certainly attacked really well,'' said Rennie. ``He's stepped up big time for us. We've had a bit of a crisis in midfield and he's played most of his rugby at No13 this year and done a good job.''
- APNZ