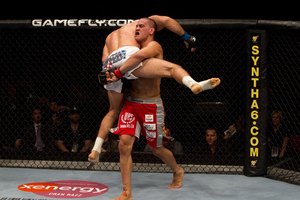 James Te Huna always planned to be at UFC 160, he just thought he would be in the stands rather than the octagon.
The Kiwi MMA fighter, who last stepped inside the cage when he beat Canadian Ryan Jimmo by unanimous decision at the UFC on Fuel TV: Barao vs McDonald event in London in February, said he just wanted to stay in shape after his last win.
Te Huna had visions of going to watch his friend and fellow New Zealander Mark Hunt at UFC 160 when Hunt meets Brazilian Junior Dos Santos in a heavyweight bout at the MGM Grand Arena in Las Vegas on May 25.
But a phone call from manager Anthony McGann changed Te Huna's schedule.
"I didn't have no match in that four weeks I had off after my last fight. My manager called me up and he asked me what my plans were for the next couple of months and I told him I'm going to try and keep fit and wait for another match to happen and I'm going over to watch Mark fight dos Santos, I'm going over there to support him,'' Te Huna said.
"Then he goes `how'd you like to fight on the card?' and I was like `hell yeah, man, just stick me on the card'. And he goes `the only thing is [Glover] Teixeira is looking for a match and no-one else wants to fight him'. I was like like `yeah, man, make that match happen, I want it'. And here we are.''
American Ryan Bader was down to fight Teixeira but he was forced to pull out due to injury, which presented the light heavyweight Te Huna with his opportunity.
There aren't a lot of takers for a bout with Teixeira (20-2) because he is one of the hottest fighters in the UFC and the Brazilian is riding an 18-fight win streak across various promotions.
He hasn't been defeated since 2005 but there's an air of similarity here for the 31-year-old Te Huna considering Jimmo was on a 17-fight winning run until the Kiwi ended that streak in London.
Te Huna, who is 5-1 in the UFC, hasn't been going too badly either and has only been defeated once in his past 11 fights and he holds no fear of mixing it up with Teixeira.
"I like entering good challenges. That's what got me in to the sport is the challenge so I was naturally attracted to this match,'' Te Huna said.
"I'm just going to come in all guns blazing and try and put him away. I want to shake everyone else up because everyone thinks he's this and that and it's my time to shine and I want to put him away, man. No-one's going to believe it; no-one believes me but me and my team, we believe that we can catch him.''
Te Huna's striking power is one of his greatest assets and if the fight stays up there's few reasons to doubt he could pull off the upset.
Te Huna's victory over Jimmo was also memorable for his choreographed entrance to the cage with his cornermen to Will Smith's tune `Men in Black'.
As for whether or not he has another eye-catching entry planned, Te Huna said people would have to wait.
"I've thought about it. But I'm just so focused on this fight,'' he said. "The last one, I always had the idea of walking out to `Men in Black' and doing an entrance. But the last two weeks of the camp wasn't going too well so I tried to do something that was going to relax me a bit when I walked in to the cage and it worked.''
Maybe another creative entrance might give him the extra edge against Teixeira.
- APNZ