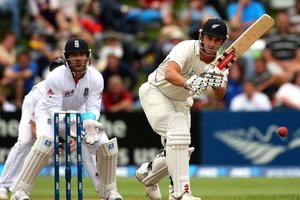 New Zealand opener Hamish Rutherford claimed to have given it little consideration, but his unbeaten century against the England Lions must have arrived with an element of relief.
Although the incumbent would have been almost certain to retain his place atop the order for the first test at Lord's regardless of his performance, Rutherford's runs provided a timely reminder why a fit-again Martin Guptill will be watching from the sidelines at cricket's hallowed turf.
Since scoring 171 on debut in the first home test against England in March, Rutherford came crashing back to earth with scores of 23, 15, 37 and 0 in the remainder of the series. The 24-year-old was again out of the runs in the first warm-up game of New Zealand's return tour of England, when he was dismissed for 13 and a duck against Derby.
But the shackles came off in Leicester overnight (NZT), with Rutherford smacking 116 not out from 135 balls against an England attack including recent test bowler Graham Onions and limited overs bowler Chris Woakes.
If Guptill were to return to a batting order which battled to a 0-0 draw in the home series against England, it probably would have been in the middle order. But the long-time test opener - who has opened the batting in 45 of his 57 test innings - will be breathing down the neck of Rutherford and Peter Fulton if they show any sign of weakness.
Not that Rutherford seemed particularly perturbed.
Asked whether he was worried about the looming presence of Guptill, Rutherford said: "No, I'm more worried about trying to hit the ball.''
And when quizzed whether he was likely to retain his place for the first test, he said: "I presume so, I haven't had that sort of conversation with [coach Mike Hesson].''
It's a safe presumption to make, especially in light of his most recent effort with the bat. The Otago opener guided New Zealand to 184-3 after the first day at the Grace Road ground and, with the knock all but sealing his spot at Lord's, he began to look ahead with an excited anticipation to a maiden appearance at the home of cricket.
"Before the test we'll get a good chance to absorb it, because it will be a little bit much walking out,'' he said. ``It would be huge but I'm just trying not to get too wound up, otherwise I'll forget to watch the ball.''
- APNZ