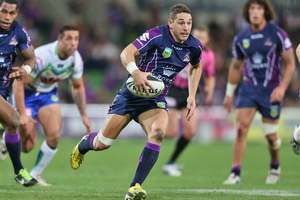 Justis Kamu lists how the NRL Nines can be a success as well as the other key talking points following the latest round of matches.
1. NRL Nines will be great if...
The elite stars participate
Billy Slater, Greg Inglis, Jonathan Thurston, Cooper Cronk, Ben Barba...the list goes on. All the NRL's elite playing personnel must participate in the Nines tournament if it's going to be a success. With the participation of the NRL's top stars it will definitely provide a superior level of skill and ability that is unrivalled in the shorter version of the union game.
That level of talent on show in Auckland for two days is irresistible for any sports fanatic regardless of their preference of ball sports. Also their involvement in the tournament will ensure that the Nines will be a spectacular event off the field as the top players of the game interact with the public and the large NRL support base that exists in New Zealand.
Prices are affordable for punters
The Nines are set to be a two day event in February so it's crucial that admission prices are reasonable for the average punter. Considering that the $3m event will be the richest in terms of prize money it will mean that fan attendance will be critical to the success of the event and its longevity in Auckland. Eden Park needs to have 40,000 plus fans in the ground on both days. Pricing arrangements are will be the first place to start attracting fans and the NRL won't have to look far for any motivation of what not to do.
They made a huge error recently with the pricing of the City v Country game where prices started at $A50 ($NZ62) for a grandstand seat and $A30 to sit on the grass.That's a lot of money for a deadrubber trial in a country town in what's supposedly the working man's game. Just 5,000 people attended the match at BCU stadium which has a capacity of 20,000.
The party is on the field
The union event down in Wellington is now a sideshow to the party antics that unfold in the stadium stands. The amount of times the television cameras focus on the crowd would support that position. Whilst that is a great advertisement for Wellington and the union game of sevens, a large section of spectators - school aged and older aged patrons don't feel welcome to the party.
The NRL Nines need to can take a different route and ensure that all fans are catered. League fans know how to have a good time but let's keep the loudest noise directed at the on-field action not for singing Bon Jovi or Cyndi Lauper hits.
2. Ben Henry - Centre or Secondrow?
Where to play Ben Henry? The former Junior Warriors captain is a player who is highly rated at the club and his performance on the weekend against the Titans did a lot to justify that with his best match of the season - 87m, one try, one try assist, 26 tackles, one offload, one line break and three tackle busts.
He's not the biggest forward or the quickest outside back in the squad but as he exhibited on Sunday afternoon he can smother bigger men with his tackling technique and has a knack for slowing the play-the-ball. He also has enough footwork to beat a man or two and dish off an offload when it's required.
His versatility and range of skills make Henry a quality player to have in the Warriors however that flexible skill-set may also do more harm than good. While he is helping the team filling-in where he is needed, it can slow his ability to find himself a concrete position in the side. The former Kelston Boys pupil considers himself a secondrower but with Simon Mannering, Feleti Mateo in the run-on side and Elijah Taylor off the bench the Warriors are well-stocked in that department. In the centres, Jerome Ropati, Konrad Hurrell, Dane Nielson and Ngani Laumape are all vying for a spot on the left and right side of the field. Henry is too good to leave out of the match day 17 but where do you put are guy who is right now a jack of all trades?
A fixed position needs to be settled quickly for someone who is eyed as the side's future captain.
3. Sharks' Fifita an outside chance for NSW?
Tongan behemoth Andrew Fifita could be a surprise call up to the New South Wales State of Origin side after another huge game for the Cronulla Sharks. Coming off the bench, he played 59 minutes had 25 hitups, ran for 251 metres, broke nine tackles, completed 34 tackles and made one offload.
An outstanding workday's effort for the 196cm, 114 kg forward who was let go by the Wests Tigers in 2010 by then coach Tim Sheens to make way for incoming backrower Melbourne Storm's Adam Blair. That departure didn't sit well with Fifita who was a fans favorite at the club where he had risen through the club's development system. However his move to the Cronulla has propelled the 23 year old prop forward into State of Origin contention as he now is playing 60 minutes per game after initially being a 30 minute (two 15 min spells) impact player at the Tigers.
While he has always been a genuine weapon in attack and defence - his work rate has markedly improved with the Indigenous All Star leading the Sharks tackle count after eight rounds with 276 to his name. A forward that will damage the QLD defensive line is a must for the NSW side. Fifita may just be their man.
4. 40,000 one week to 11,000 the next
Where was everyone in Sydney on Sunday afternoon? They were definitely not at Allianz Stadium. Just 11,000 people showed up to watch the Roosters 30-6 drubbing of the Panthers. A dramatic decline from the previous week's attendance of 40,675 who were at the same stadium for Roosters v Dragons Anzac Day clash. During the Anzac Day match the noise was booming at times with both sets of fans stirring a rousing atmosphere. The stadium was packed to the rim and picking out a spare seat was about as hard as trying to find Wally in the popular children's books.
Fast forward a week and you could hear the Roosters and Panthers players making calls on the pitch or urging their teammates to chase the kick. Some sections of the stadium had to be covered with advertising material because there were no tickets sold in those areas. And you thought it was a less than bumper crowd at Mt Smart Stadium? At least Warriors faithful know how to make some noise.
5. Your comments
From Small govt is good
Is there something that stops temp loans now?
- Currently the NRL does not operate a loan system on a temporary or permanent basis. Typically, players are acquired through a player transfer process where X ( a player who is off contract) can sign with a rival club for the following year i.e Todd Lowrie and Dane Nielson who last year played for the Storm committing for the Warriors in 2013. Also a player can be signed mid-season however they must be released from their contract by their club i.e Dayne Weston being granted an early release from Penrith Panthers to sign with the Melbourne Storm last week.
From Disco Ninjas
Will Chambers is off contract at the end of the year, this guy is pure class and for the life of me cant understand why the warriors are not chasing him. He would be an ideal replacement for Ropati. Every club is being pro-active and signing players except Elliot no one wants to play for this clown.
- Agreed, Chambers is class and has taken some time to wind up to his current form after his two year stint in rugby. A couple of NRL clubs and even union sides were hunting for his signature before it was announced last week that he had re-signed till 2017 to stay at the Storm. Not too sure if the Warriors made a move for him as it is unreported however the Warriors recruitment have been working hard to attract players to the club.
Matthew Elliott isn't a magnet for attracting players to beautiful Aotearoa and the same goes for his assistants, Ricky Henry (NZ under 18s and Vulcans) and Andrew McFadden (2 years Super League assistant, 3 years NRL assistant at Raiders). If transfer prospects were unsure about Elliott, his assistants would struggle to persuade them that moving to Auckland will enhance their playing careers. If the Warriors become a stronghold in the top eight and can win a title or two than signing with the club wouldn't be much of a problem. Until then, the Warriors will continue to pay over market rate for their player acquisitions.
6. Team of the week - round 8
1. Fullback - Greg Inglis (Souths)
2. Wing - Jorge Taufua (Sea Eagles)
3. Centre - Ben Henry (Warriors)
4. Centre - Blake Ferguson (Raiders)
5. Wing - Sam Perrett (Bulldogs)
6. Five-eighth - Johns Sutton (Rabbitohs)
7. Halfback - Josh McCrone (Raiders)
8. Prop - Matthew Scott (Cowboys)
9. Hooker - Jake Friend (Roosters)
10. Prop - Jared Warea Hargreaves (Roosters)
11. Secondrow - Feleti Mateo (Warriors)
12. Secondrow - Luke Lewis (Sharks)
13. Lock - Sam Burgess (Rabbitohs)