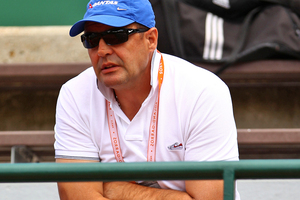 The father of Australian tennis player Bernard Tomic has been suspended from the ATP tour until further notice following an alleged assault on his son's training partner.
John Tomic appeared in a Madrid court on Monday after being accused of headbutting his son's French training partner Thomas Drouet.
He denied the charge, saying he acted in self defence and will return to court on May 14 for a judge to decide his guilt or innocence.
Bernard Tomic is competing in Italy at the Rome Masters next week but, as it stands, his father and coach will not be allowed to attend.
"Following last week's incident in Madrid concerning John Tomic, and the ensuing investigation, Mr Tomic's credential privileges have been suspended at all ATP tournaments until further notice,'' the ATP told AAP in a statement on Tuesday.
"The ATPs investigation into this incident remains on-going.''
Drouet has called for John Tomic to be thrown off the tour permanently, labelling him as dangerous.
"I want to help Bernard forbid his father from having access to tournaments,'' Drouet said in an interview published Tuesday in French sports daily L'Equipe.
"I want him to be banned from the ATP and the WTA.
"He is a dangerous person, who has nothing to do in this sport of gentlemen.''
Drouet also claims he saw the elder Tomic hit his son on more than one occasion.
"John hit his son on the court, while we were training in Monaco,'' Drouet said.
"He punched him in the face. Blood was dripping from his mouth onto the court. Tuesday, he attacks his son, Saturday me, what's next?''
Drouet appeared at the Madrid court on Monday with his nose heavily bandaged and wearing a neck brace.
John Tomic's lawyer Carmen Dieguez said his client had struck his son's training partner with his head only because his own arms were being held by Drouet and he had to protect himself from falling over.
Tomic opted for a court hearing rather than paying a fine, she told reporters.
Drouet earlier claimed he had been ``treated like a dog'' by the coach and said the incident stemmed from an earlier altercation at Nice airport when John Tomic screamed at him for not getting some milk.
Bernard Tomic reportedly said he had been with his physical trainer at the time of the incident and had seen or heard nothing.
- AAP