Trainer says she gave no information to bookmaker son about health of More Joyous.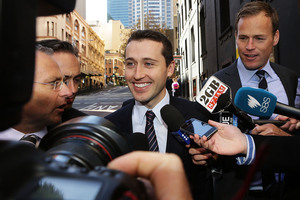 Rosehill trainer Gai Waterhouse says any conversations she had with her husband or son before More Joyous raced at Randwick on April 27 were personal and not about the condition of the horse.
Waterhouse and owner John Singleton are appearing at a Racing NSW stewards' inquiry into an alleged injury to the horse who finished second last in the All Aged Stakes.
After the race, Singleton publicly sacked Waterhouse as his trainer, saying Waterhouse's bookmaker son Tom had told former jockey Allan Robinson and ex-league player and media personality Andrew Johns the mare could not win.
"I never spoke to [husband] Rob or Tom about More Joyous before the race," Waterhouse said.
"Any conversations I had were of a personal nature."
She has admitted her stable's record keeping may have been lax but has denied trying to hide a problem with More Joyous, who was passed fit to race by stable vet Leanne Begg and Singleton's vet John Peatfield, who examined the mare on race morning.
Waterhouse's treatment book did not show More Joyous had joint treatment cartrophen and an antibiotic but records at the Randwick Equine Centre where Begg is employed, show the administration.
Singleton said he had been told by Peatfield and his own racing manager Duncan Grimley the mare had had an issue with a sore neck earlier in the week and not to back her.
He said alarm bells rang when he received calls from Robinson and Johns that Tom Waterhouse had said the mare was "off and couldn't win and would more than likely come last".
He told chief steward Ray Murrihy it had crossed his mind to contact him and express his concerns but he decided against it as it was hearsay.
"I had no concerns early in the day but I had massive concerns after what Allan Robinson and Andrew Johns passed on to me. I spoke to Gai and she told me in her inimitable way the horse would win."
Waterhouse said Singleton was irate and making a scene after the race. "He kept going on that Tom must know something," she told the inquiry.
"I said the horse was perfect, I was happy with the horse going into the race, it was an equal favourite." The odds on the horse were 2-1.
Singleton said his friend, former jockey Robinson, called him shortly before the race to tell him he had heard the horse wasn't well.
When Singleton asked him who it was, Robinson said he couldn't say but that it was "a rugby Immortal".
- AAP