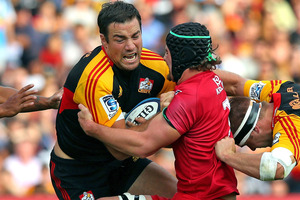 Richard Kahui will have yet another shoulder operation on Wednesday and has conceded his lucrative Japanese club contract is in doubt.
It will be the fifth shoulder operation in six years for the Chiefs and All Blacks midfielder, and, with the recovery time expected to be between four and six months, his rugby future is extremely uncertain.
What is sure is that he has played his last game in New Zealand for the foreseeable future.
Kahui visited a surgeon today and was given a reasonably positive prognosis, said Chiefs coach Dave Rennie. The injury is muscular rather than structural and while disappointed the 27-year-old is understood to be keen to keep playing following his recovery.
He was unavailable for comment today but told Maori Television's Code programme late last week that he will probably have to re-think his immediate future. He was due to join Japanese club Toshiba in August.
"I probably won't be going but I won't know anything until we get a bit closer to the time," he said on the show. "Once August comes around we'll know more from there. My wife and I have a few decisions to make and our future looks a bit different than it otherwise did.
"The bit of repairing work they did last time didn't quite work so they have to go back in and fix it again. We're looking at four to six months out again."
Rennie confirmed Kahui was out for the rest of the season but said the relatively positive prognosis from the surgeon had given the player hope.
"Structurally he's actually okay. There's no ligament damage there, it's more the muscle has come away and it has to be stitched back down.
"He's pretty gutted of course. We got to see first hand how hard he worked to get back on the track and he came back and was playing fantastic rugby. He's pretty determined and if anyone can bounce back from this it's Richard."
Asked whether Kahui appeared keen for yet another round of rehabilitation, Rennie said: "He knows he's still got a lot to offer. He just wants a season free of injury. He's pretty determined for that. Such was his form when he came back, it would be a real shame to see him not play any footy again."
Kahui has had only one injury-free season since 2006, a dreadfully unlucky run which has limited his tests for the All Blacks to 17. This season he played four matches - against the Highlanders, Blues, Reds and Waratahs before pulling a hamstring in Sydney and then hurting his shoulder in training in Hamilton. Kahui's previous shoulder injury mid-way through last season ruled him out of the Chiefs' march to the title.
He was one of the All Blacks' best at the last World Cup and he remained firmly in coach Steve Hansen's thoughts for the June tests against France despite his scheduled departure for Japan.
That dream is gone. Slipping fast too are the chances of salvaging his two-year contract for his Tokyo-based club. He had said he was keen to return to New Zealand to following his trip to try to make the All Blacks for the 2015 World Cup. Now that dream, too, must be all but over.
- APNZ