An eight-year wait but hoop shows the skill is still there after classy displays.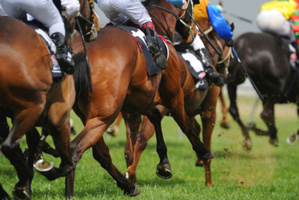 Waikato horseman Craig Thornton does not remind you of Frankie Dettori. In personality, that is.
In terms of ability on horseback, it is not a total stretch to say Thornton is every bit as close to the top of his profession - jumps riding.
"What's all the fuss about?" said Thornton after showing true class to get Evathreestep home over hurdles at Te Rapa on Saturday in his first race ride in eight years.
The 47-year-old showed that racetrack personality runs a poor second to sheer horsemanship in two rides at Te Rapa.
The Evathreestep performance was faultless, but his ride on Zagata to finish second in the steeplechase two races later was a classic.
It should be required viewing for any aspiring jumps rider - or even for any flat apprentice.
At every step of that steeplechase, Thornton had Zagata in exactly the right footfalls to win the race.
He put Zagata to sleep in fourth behind the leaders, cut the final corner approaching the home straight, went wide to the better footing to jump the outside panel of the final fence then moved even wider to get the best possible footing in the closing 300m.
That Zagata couldn't pull back stablemate and hot favourite Morpheus was certainly not Thornton's fault.
It was the class act we'd almost forgotten in jumps riding.
Brian "Baggy" Hillis didn't look as sharp on a horse, but his tactical riding was brilliant.
There are other names that get a mention, more recently Jonathan Riddell and before him Rodney Heaslip and a stack of others.
Perhaps we don't see as much of it these days, but Craig Thornton could change that dramatically, and that would be a lot to fuss about.
Trainer Graeme Rogerson says he wants to revive jumps racing.
He has a few followers, but realities jump in here. Like the fact racing clubs find fewer punters want to invest on jumps races compared with flat events.
That is a difficult hurdle to get around, given a huge percentage of stakemoney comes from betting and jumps races has an undermining effect.
That is sad, because there is no question jumps racing provides lacklustre winter racing with excitement.
There is plenty of work going on behind the scenes to correct this - let's hope there is some sort of suitable solution.