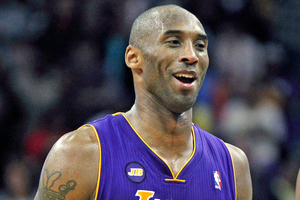 Kobe Bryant is in a court battle to try to keep his mother from auctioning off mementoes from his high school days in Pennsylvania and his early years with the Los Angeles Lakers.
A New Jersey auction house filed a lawsuit in US District Court for the right to sell the mementoes after the National Basketball Association star's lawyers wrote to the firm telling it to cancel a planned June auction. The 900 mementoes are worth upward of US$1.5 million ($1.76m).
Among the items Pamela Bryant intends to sell: the NBA star's jerseys, from Lower Merion High School; a trophy for being the outstanding player at the 1995 Adidas ABCD basketball camp; and a signed basketball from the 2000 NBA championship game.
According to court filings, Pamela Bryant struck a deal in January with Goldin Auctions in Berlin, New Jersey, which earlier this year sold a rare Honus Wagner baseball card for a record US$2.1m ($2.46m). She got US$450,000 ($530,000) up front, which she intended to use for a new home in Nevada.
In its court filings, Goldin says Pamela Bryant told the auction house that she asked her son five years ago what he wanted to do with the items that were in her home.
"Kobe Bryant indicated to Pamela Bryant that the items belonged to her and that he had no interest in them," the auction house's attorneys wrote. The challenge came this week when Goldin sent a news release announcing the auction. By day's end, Kobe Bryant's lawyer had sent a cease-and-desist letter telling the auction house to call off the sale and return the items to him.
Kenneth Goldin, owner of the auction house, says he can't cancel the auction because he's already advanced $450,000 to Bryant's mother and put money into advertising the auction.
Kobe Bryant's lawyer Mark Campbell said in a statement, "Mr Bryant's personal property has ended up in the possession of someone who does not lawfully own it. We look forward to resolving this legal matter through the legal system."
- AP