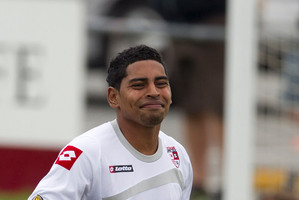 New Zealand champions Waitakere United have placed one foot in the final of the OFC Champions League by securing a 2-0 win over Amicale in the pair's first leg semi-final in Port Vila, Vanuatu.
The vital victory, secured courtesy of a first-half double from Fijian international Roy Krishna, means Waitakere now have an excellent chance of earning a shot at the title with two away goals in the bag and the home leg looming at Fred Taylor Park in a week's time.
The advantage may have been even greater had Krishna not failed to open the scoring from the penalty spot in the 24th minute.
But Waitakere coach Paul Marshall wasn't complaining at the final whistle and was delighted to be taking a two-goal lead into the return leg.
Roy played well and scored two goals but the credit goes to all my players, he said. The pitch was not good but it was a good, hard game and we played our hearts out.
We are happy to have secured the away win and will now welcome Amicale to our home ground which is a much better surface.
As expected, over 8,000 boisterous Amicale fans packed into Port Vila Stadium as their team attempted to repeat their heroics of 2011, when they made it all the way to the final before finishing as runners-up to Auckland City. But they had little to cheer about in a match of few clear-cut chances and were silenced when Krishna burst forward and tumbled over in the box under the challenge of Amicale skipper Nelson Sale.
Tahitian referee Averii Jacques, not phased by the protestations of the vocal home fans, pointed to the spot and Krishna himself stepped up to finish off his handiwork. But his powerful effort struck the underside of the cross bar and bounced in front of goal before the Amicale defence swarmed to clear the ball to safety, much to the delight of the Amicale faithful.
Marshall, who emphasised the importance of his men taking their chances in the build-up to the match, must have been concerned that Waitakere would be left to rue that missed opportunity but those fears were eased when Krishna made amends just under ten minutes later.
The Amicale defence proved to be their own worst enemy when veteran goalkeeper Chikau Mansale and Sale appeared to get their wires crossed on the edge of the box, both leaving the ball for each other to claim as Krishna took advantage of their indecision to nip in between them and prod an effort home.
It appeared as if the sides would go into the break with Waitakere holding that slim advantage but it had doubled by the time Jacques blew for half-time, Krishna meeting a Ryan De Vries cross from the right at the near post to beat Mansale from close range in the second minute of additional time.