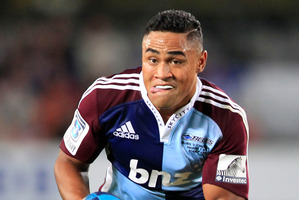 Blues' midfielder Francis Saili is trying to keep his criminal record clean after admitting a driving charge, and will now face a rugby disciplinary hearing.
Saili pleaded guilty to a charge of driving while disqualified when he appeared at the Manukau District Court yesterday.
He lost his licence after racking up demerit points.
Saili's lawyer Joey James asked Community Magistrate Philip Greenbank not to enter a conviction against his client because he would be seeking a discharge without conviction.
A judge can order a discharge without conviction if it is found the consequences of a conviction would outweigh the gravity of the offending.
Asked by Mr Greenbank what the grounds were for such an application, Mr James said it was because his client was a high-profile rugby player and there had been considerable media attention.
Mr Greenbank said that was unlikely to be enough.
Mr James said his client may wish to travel in the future, and a conviction could stop him from entering some countries.
"The New Zealand Rugby Union has already confirmed that a criminal conviction could impact on his ongoing employment."
Mr Greenbank said the court would need to see letters from overseas authorities confirming that a conviction would impact on Saili's ability to travel.
Saili will find out his fate later this month, and declined to comment outside court.
According to the police charge sheet in court, Saili was stopped on Auckland's Southwestern Motorway on April 12.
Outside court, senior police prosecutor Sergeant Paul Watkins said Saili will be treated like anyone else when police consider whether to support his application for a discharge without conviction. He said Saili's charge was serious. "He accumulated demerit points and Parliament has directed that a person who does that should be off the road for three months. He has taken no heed to that direction."
- APNZ