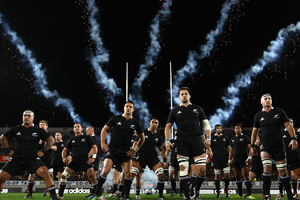 The All Blacks will begin the defence of their Rugby World Cup title in 2015 against Argentina at Wembley Stadium on September 20.
The match comes two days after the start of the tournament which features host country England playing an Oceania qualifier, probably Fiji, at Twickenham. The Rugby Football Union had been keen to avoid opening with a game against Wales or Australia, with the three teams likely to compete for two quarter-final places in Pool A, considered the toughest group.
The All Blacks have only a four-day turnaround to their next game, against an African qualifier at the Olympic Stadium in London. Steve Hansen's men also face a European qualifier at Millennium Stadium in Cardiff on October 2 and Tonga at St James' Park in Newcastle on October 9.
The tournament draw was announced by the International Rugby Board tonight, with the pools announced at a function in London in December.
The All Blacks will play their quarter-final, presuming they come through their fairly weak pool, at the Millennium Stadium on October 17. The semi-finals and final will be held at Twickenham, the latter on October 31.
"It's exciting that the match schedule has been announced and is the latest step in preparations for Rugby World Cup 2015," All Blacks manager Darren Shand said.
"One of the key talking points will be the four-day turnaround between our first two games but that had been flagged well in advance by Rugby World Cup organisers who were keen to make the schedule more fair and equitable particularly for Tier 2 and Tier 3 nations. In fact, we were very supportive of the draw being fairer and were part of the group of countries that suggested it.
"As far as the team is concerned, we will prepare accordingly for the shorter turnaround," Shand said.
He said it would also be thrilling for the team and its fans with the All Blacks playing at new venues.
The All Blacks played Wales at Wembley in 1997 when Millennium Stadium was being built and played in Newcastle (at County Ground, Gosforth) on the 1924-1925 "Invincibles'' tour but it will be the first time they have played at Olympic Stadium.

"Wembley, the Olympic Stadium and St James Park are all iconic venues in their own right and our matches there will certainly be special events, while we are very familiar with Millennium Stadium and our matches there have also been big occasions."
Shand said while initial discussions had started on the All Blacks campaign for Rugby World Cup 2015, further details on the All Blacks plans would not be finalised until closer to the time.
No country has successfully defended the World Cup in seven tournaments since the first one in New Zealand in 1987, won by the All Blacks.
The Southern Hemisphere has easily enjoyed the most success with two titles each for New Zealand, Australia and South Africa, with England the sole Northern Hemisphere winner in Australia in 2003.
All Blacks coach Hansen last month had his contract extended until after the next World Cup. He was an assistant coach alongside Sir Graham Henry at the Eden Park final in October, 2011, a nerve-shredding encounter won 8-7 by the All Blacks.

All Blacks Rugby World Cup 2015 Pool Play match schedule
New Zealand v Argentina, September 20, Wembley Stadium, London
New Zealand v Africa 1, September 24, Olympic Stadium, London
New Zealand v Europe 1 October 2, Millennium Stadium, Cardiff
New Zealand v Tonga October 9, St James Park, Newcastle
For the full Rugby World Cup 2015 match schedule go to rugbyworldcup.com.
POOL A
Australia
England
Wales
Oceania 1
Playoff winner

POOL B
South Africa
Samoa
Scotland
Asia 1
Americas 2

POOL C
New Zealand
Argentina
Tonga
Europe 1
Africa 1

POOL D
France
Ireland
Italy
Americas 1
Europe 2
- APNZ