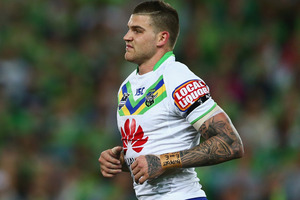 Josh Dugan is set to finally sign a contract with St George Illawarra that will be for 15 games and include an ask first, tweet later clause.
News Ltd reports Dugan is expected to officially sign with the Dragons either on Thursday or Friday.
If things go well this season, the club's likely to offer him a two-year deal, the report says.
Dugan will also have to abide by the club's strict social media policy, which prevents him tweeting without approval.
Dugan's social media faux pas led to the termination of his contract at Canberra, while a second online outburst ended negotiations on a $2 million deal with Brisbane.
- AAP