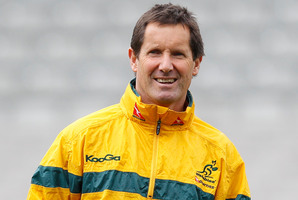 Knowing the stakes are about to rise, Robbie Deans has reaffirmed his desire to coach Australia at the 2015 Rugby World Cup.
Deans yesterday warned the Wallabies to brace themselves for a brutal showdown with the Lions and said he was well aware of the personal heat on him to deliver a meaningful series win.
With Australia having lost all five Bledisloe Cup series to the All Blacks since he began his tenure and also bombing out in the 2011 World Cup semifinals, the coach knows his future with the Wallabies hinges on a triumphant campaign against the Lions in June and July.
Ewen McKenzie and South Africa's 2007 World Cup-winning coach Jake White, whose Reds and Brumbies outfits lead the Super rugby championship at the halfway point, are in the frame to replace Deans when his contract expires at the end of the year.
Deans insists he is capable of blocking out the external pressures to focus on helping the Wallabies defeat the Lions, but acknowledges the significance of the series.
Asked if he was still keen to coach the Wallabies at another World Cup, Deans said: "Absolutely. Finish the job, so to speak."
Deans expressed little surprise in Lions coach and fellow Kiwi Warren Gatland's selection of 15 Welsh players in the 37-man touring party.
Also the Wales national coach, Gatland admitted at his squad announcement on Tuesday that Wales' 32-3 rout of England in this year's Six Nations decider had been pivotal in the selection process.
Deans agreed the 2011 World Cup semifinalists deserved their dominant representation, including 24-year-old Welsh flanker Sam Warburton earning the Lions' captaincy.
The Lions face the Force in Perth in the first match of their nine-game, seven-week tour of Australia, withthe first of three tests against Australia taking place in Brisbane on June 22.
Deans will name his final 31-man Wallabies squad for the series on June 11, after assembling a preliminary group of 25 players on May 19.
- AAP