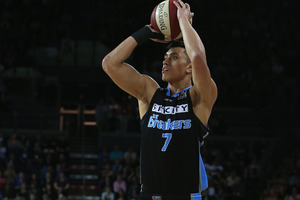 The Breakers have known about Reuben Te Rangi's rising potential for some time and they have now put their faith in him by cutting Leon Henry from their roster.
Henry was released from the second year of his two-year contract, leaving four spots open on the Breakers' roster for 2013/14 - two imports and two locals.
One will be taken by Te Rangi, who will be offered a three-year deal. A major reason for handing the 18-year-old a long-term deal, not least of all because of his potential, is because he will be locked in as a one-point player for those three years.
Each team has to fit inside a salary cap (A$1 million) and points system (all 10 players are rated between one and 10 and must fit under 70 points) in an attempt to create a level playing field and the Breakers were feeling the squeeze.
Henry was a four-point player but wasn't as effective as he was in his first full season and new coach Dean Vickerman made the difficult decision to let him go.
``It was one of the toughest things to do as a coach,'' Vickerman said. ``I love Leon. He was a part of the three championships. It was an extremely tough decision but, with the points system and positions on our roster next year, it just didn't align for Leon.''
Henry played 57 games for the three-time champions, averaging three points and 2.4 rebounds a game, but played limited minutes in the playoffs against both Sydney and Perth.
Te Rangi showed a glimpse of his potential with a 13-point cameo in just 10 minutes against Melbourne in March, when he landed four from four from the field including three three-pointers, and played with a swagger that belied his youth. Overall the 2.01m swingman appeared in 11 matches last season and he has made an immediate impact with Southland, scoring 22 points and seven rebounds in his first home game.
He had been tipped to take over the slot occupied by the retiring Dillon Boucher but he plays a different role to Boucher, prompting the club to make space to bring in another big man.
They are in talks with both Rob Loe (St Louis) and Isaac Fotu (Hawaii), but both remain committed at this stage to seeing out their college scholarships before considering a return to New Zealand.
Vickerman, who will soon head to rugby league outfit Souths Sydney and AFL club Sydney Swans to see how they build programmes, will scan the New Zealand NBL for alternatives. Morgan Natanahira and Jack Salt, who are both in the Breakers development programme, loom as possibilities but Vickerman will also consider Australian prospects.
The club have spoken to league MVP Cedric Jackson about the possibility of a three-year deal, which would then see him qualify to play for the Tall Blacks, but that will hinge on whether Jackson secures a deal to return to the NBA. They are also in talks with their other import Will Hudson about returning next season.
The Breakers have six players contracted for next season - Tom Abercrombie, CJ Bruton, Daryl Corletto, Alex Pledger, Mika Vukona and Corey Webster - but Abercrombie plans to head to the US in the hope of playing NBA summer leagues and Pledger is also considering following the same path over the offseason.
Abercrombie could reportedly head to Chicago where his agent is said to arrange for his clients to play in front of scouts.
- APNZ