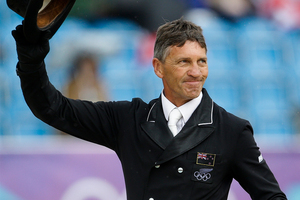 Andrew Nicholson has set up a battle royale at this weekend's Badminton Horse Trials as he tries to become just the second person ever to win the Grand Slam.
On the back of his victory at the Kentucky Three Day Event, where he won his third consecutive four-star start, Nicholson lines up as one of the hot favourites.
But with a stellar field attracted to the prestigious English event, it won't be a walk in the park, and his arch rival William Fox-Pitt (GBR) is also eying both prestigious titles.
Nicholson spear-heads a solid New Zealand contingent - more combinations accepted than any other nation other than hosts Great Britain - which also includes his London Olympic bronze medal winning teammates Sir Mark Todd, Jonathan Paget and Caroline Powell who each have two mounts.
London reserve Lucy Jackson has two entered and Megan Heath and her horse St Daniel are the only combination on the Kiwi card who are not yet members of the high performance squad.
Nicholson has Avebury and Nereo on the card - two of his most experienced horses. He's made no secret of his focus on the FEI Classics Series, which he is leading, and is in a plum position to take the cash rich Grand Slam - the rider who wins Badminton, Burghley and Kentucky consecutively pockets US$350,000.
"It's going to be a very interesting weekend,'' says the world's No 1-ranked eventer.
Nicholson has never won Badminton and yet holds the record for the most completions, and he's on a mission.
While Todd is the defending champ at Badminton, having won it in 2011 aboard NZB Land Vision (2012 was cancelled due to weather), he's not trumping himself as the one to beat.
"There are a lot of very established horses there this year . . . it is a very strong field and could be anyone's,'' he said.
Todd's horse Ravenstar will be having his first four-star start but he's confident, if everything goes well, they should finish in the top 10. His other horse Major Milestone is more than likely going to be ``playing a bit of catch-up'' after the dressage.
"It is always good to be at Badminton and I would love to be there this year with Campino, but he's out with injury and won't be doing anything until next spring,'' Todd said.
Equestrian Sports New Zealand high performance director Sarah Harris said a Badminton win is all part of the wider high performance plan for the Kiwis to dominate the world's four-star events, the highest level in eventing.
Paget will ride both Clifton Promise, who he finished seventh on at the 2010 World Equestrian Championships, and Clifton Lush and Caroline Powell is another one who can't be discounted, particularly on Onwards and Upwards.
Powell's former mount Lenamore, who retired earlier this year, will be honoured at a parade in the main arena on the final day of competition. The combination hold their record seven consecutive completions, which saw them just once outside the prizemoney.
The start list includes reigning Olympic, world and European champion Michael Jung (GER), along with most of the combinations who featured on the podium in London. There are seven previous Badminton winners entered, including Fox-Pitt, who is also chasing the Grand Slam and, because of last year's Badminton cancellation, can also claim the big prize if he wins.
Just 85 combinations will line up at Badminton, which offers $117,000 to the winner. The action gets underway with the first horse inspection on Friday morning (NZ time), followed by two days of dressage, the cross country in the early hours of Monday morning and finishing with the showjumping on Tuesday.
- APNZ