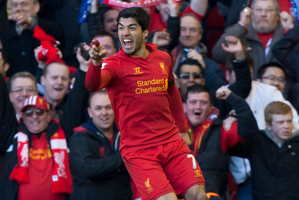 Bayern Munich are expected to make a move for Liverpool's Luis Suarez with the Germans increasingly resigned to missing out on Robert Lewandowski to Manchester United.
United are confident that they are now favourites to sign Lewandowski, a long-term target, who scored four goals in Borussia Dortmund's 4-1 Champions League semi-final first leg victory over Real Madrid.
If Lewandowski, 24, is signed it will raise questions over where Wayne Rooney fits into Sir Alex Ferguson's plans, although the United manager has already stated that he intends to offer the striker, who has two years left on his contract, a new deal.
That resolve may be tested over the (northern) summer, especially as United are not likely to offer Rooney, 27, the same terms as he signed with his last deal and if Lewandowski arrives he will expect to be first-choice alongside Robin van Persie.
When asked whether he could find room for Lewandowski, whose contract expires in June 2014, in his team, Ferguson said: "Have I got room for him? I can find room for anybody."
Ferguson added that he did not think, in the wake of the £32 million ($58 million) transfer of Mario Gotze, that Dortmund would also sell Lewandowski to Bayern.
"Dortmund fans are not going to be happy and I don't think they will sell Lewandowski to Bayern Munich," Ferguson said.
"I think they'll let his contract run out, or sell him somewhere else," said the United manager.
Bayern are now planning to formalise efforts to tempt Suarez away from Anfield.
Liverpool have insisted the 26-year-old Uruguayan will not leave the club this (northern) summer, despite him being hit with a 10-game suspension for biting Chelsea defender Branislav Ivanovic.
While Suarez has told teammates that La Liga, rather than the Bundesliga, is his preferred destination should he leave Liverpool, the impending arrival of Pep Guardiola as Bayern coach could prove decisive.
Guardiola has made no secret of his admiration of Suarez, who is represented by Pere Guardiola, the former Barcelona coach's brother.
Manchester City also retain an interest in Suarez, but the player's reputation could trouble the club's image-conscious Abu Dhabi ownership.
Juventus are also monitoring his situation.