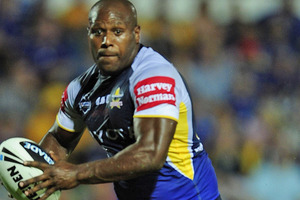 The North Queensland club says a cousin of Robert Lui is to blame for a controversial comment sent out on the halfback's Twitter account.
The NRL sought an explanation after the tweet appeared while Johnathan Thurston lined up a second half penalty goal for North Queensland in their win over Canberra in Townsville on Saturday, a match Lui missed due to injury and watched from the bench.
"Don't go for 2. I need 13+,'' the tweet read, in apparent reference to a margin bet.
NRL players are banned from betting on matches and face sanctions if they do.
The Cowboys issued a statement on Monday saying the tweet was "inadvertently'' sent from Lui's account by an unnamed cousin.
"The account in Robert's name was set up by a Brisbane-based cousin who has confirmed this to Cowboys officials this morning,'' the statement read.
"Robert's cousin revealed he had inadvertently tweeted on the player's account during the match instead of his own account which he was also using on Saturday night.
"A check of his cousin's account found that he did tweet about betting on a 13-plus margin in the Cowboys v Raiders match.
"Robert is adamant he did not tweet on Saturday night and does not bet on football.
"The Cowboys have now deleted Robert's Twitter account and cautioned his cousin regarding the incident.''
Lui is out injured with a dislocated kneecap.
He returned to the NRL earlier this season after serving a ban after pleading guilty to assaulting his pregnant girlfriend in May last year.
- AAP