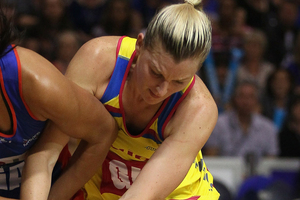 This week's scouting report was a bit different for the Central Pulse as they looked over their opposition for Sunday.
Usually a netball team will have one, two or perhaps even three players they need to target but the Pulse have a tricker task ahead of them in Wellington this weekend.
The 2-3 Pulse are hosting the defending champion Waikato-Bay of Plenty Magic, who just happen to be strong in nearly every position on the floor.
Pulse skipper Katrina Grant, who was still coming to terms with last week's stoppage-time loss to the Mystics, said the Magic were a tough assignment.
"We tried to pinpoint their top players, like who controls the game the most, but when you look at their side, half of them are in the Silver Ferns,'' Grant said.
"So the majority of them control the play and are the kingpins. So we just have to make sure we shut down all of them. Laura Langman's pretty much the main driving force being a centre as well as being who she is and how good she is, we need to kind of target her a bit.''
Aside from Langman, the Magic boast shooter Irene van Dyk and the Silver Ferns defensive pairing of Casey Kopua and Leana de Bruin.
It's an imposing mix and the Pulse will have to show more composure than they have this season.
Watching the Pulse blow a lead is becoming part and parcel of the 2013 ANZ Championship and they outdid themselves last week as they coughed up a nine-goal advantage against the Mystics before they eventually went down 69-68 in Auckland.
A controversial umpiring call against Grant in the final seconds of regulation time, which allowed the Mystics to send the game to extra periods, didn't help the mood in the Pulse camp.
But as Grant pointed out the side shouldn't have let it get to that stage and they should have locked the game up well before the final minutes.
Their inability to close out opposition has hurt them in each of their three losses this year and Grant said the side needed to be better in the pressure moments.
"It's exactly like one step forward, two steps back. Unfortunately we went into that game against the Mystics wanting to win three in a row, we'd never beaten the Mystics and we had the chance to do that and it was taken right out from underneath us,'' Grant said.
"It is really disappointing and I'm hoping that we learn from this and this could be the motivation we need to move forward and kick on. But this week's going to be such a tough match and the Magic are all class so we are going to have to bring out something pretty special.''
Much will again hinge on how many quarters Joline Henry can get through for the Pulse.
The dynamic wing defence has played half a game for the past two weeks and the Pulse generally look a better outfit when she is on the court.
She continues to be hampered by calf problems but Pulse coach Robyn Broughton would love to be able to rely on a full game from the Silver Fern on Sunday.
- APNZ