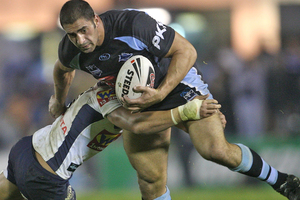 An independent report into the use of supplements at NRL club the Cronulla Sharks says there may be a "causal link" between the use of peptides and player Jon Mannah's cancer relapse.
Mannah died from Hodgkin's lymphoma earlier this year, aged 23.
"Based on the chronology it appears Mannah was administered with substances including CJC-1295 and GHRP-6 during the period from March to May in 2011," News Ltd quotes a leaked extract from the 60-plus page report as saying.
"A brief review of available published medical literature suggests an identified causal link between the use of substances such as CJC-1295 and GHRP-6 and the acceleration of the condition of disease Hodgkin's lymphoma.
"Without knowing anything further about Mannah's exact medical history and without seeking expert opinion from an appropriately qualified oncologist it is difficult to take this issue further."
The Sharks' world was turned upside after they were caught up in the investigation into the use of prohibited substances by the Australian Sports Anti-Doping Authority (ASADA) in February.
The Sharks were implicated due to their connection with controversial sports scientist Stephen Dank, who worked briefly with the club in 2011.
New Sharks CEO Bruno Cullen has told News Ltd the club had handed the report, compiled by ex-ASADA deputy chair Tricia Kavanagh, over to ASADA and the NRL.
But he would give no further details.
The Telegraph contacted the Mannah family, who were "unaware and did not wish to comment."
- AAP