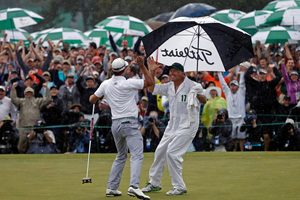 Adam Scott's breakthrough Masters success could have direct benefits for the New Zealand golf Open.
The world number three is one of the hottest names in the sport after becoming the first Australian to win the Masters earlier this month.
Kiwi caddie Steve Williams says they had an agreement Scott would play the New Zealand Open if and when they won their first major together.
Williams says it was made jokingly, but should be enough to get him to come.
"It's not going to happen this year obviously but Adam's going to be true to his word so I'd love him to come down here and play. That'd be a treat to have him down.''