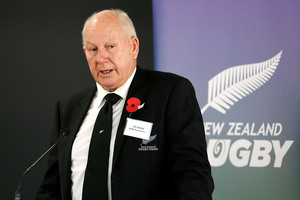 Long-time administrator and former All Black Ian MacRae was elected as the New Zealand Rugby Union's president at the annual meeting in Wellington yesterday.
The 70-year-old, who played 45 games for the All Blacks, including 17 tests, between 1963 and 1970 took over the position from Bryan Williams, who had served his two-year term. MacRae had held the vice-presidency for the past two years.
"This is a wonderful opportunity for me to give back to New Zealand rugby which has served me well over many decades and I promise to do my best in representing the game here and overseas," MacRae said.
There was a dose of controversy at the meeting as the process to find MacRae's successor as the vice-president had to be delayed.
Mark Peters' candidacy, after his nomination by Tasman Rugby Football Union, was ruled to be ineligible because of a constitutional clause that states former NZRU board members are not eligible for election to the role of vice-president or president for five years after ceasing their term as an NZRU director.
Peters was a director until 2009 and it was an oversight that was not identified until during voting at the general meeting yesterday, after the prospective candidates had given their speeches on why delegates should vote for them.
The other candidate, Cantabrian David Rhodes, didn't feel the process would be fair if he won the position uncontested so the meeting was adjourned to allow time for another nominee to be found instead of Peters. It was an embarrassing gaffe for the NZRU that chairman Mike Eagle was forced to apologise for during the meeting.
Former All Black Mark Robinson became the first player to have enjoyed a playing career in the professional era to be voted on to the board when he was elected as a new representative for the central zone.
Robinson is a former chief executive of the Taranaki Rugby Union and took over from Graham Mourie, who had served his maximum four terms.
After the meeting, the appointments and remuneration committee reappointed Brent Impey as independent director for a new three-year term. Board member Graham Cooney was also elected unopposed for a new term as the south zone representative.
On the financial side of matters, the NZRU declared a $3.2 million profit for the year while it more than doubled its cash reserves to just under $52 million from $25 million.
NZRU chief executive Steve Tew said it was pleasing to see the union's cash reserves increase, which was largely down to new sponsorship and the execution of transactions from hosting the 2011 World Cup.
Tew said they hoped to improve on those reserves to ensure they were at an appropriate level for a business of their size and they also wanted to sign off on a new collective bargaining agreement in the near future.
- APNZ