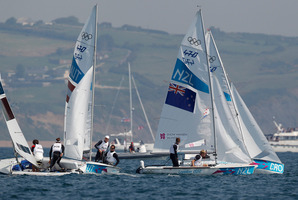 Men's 470 sailors Paul Snow-Hansen and Daniel Willcox are the best placed of the Kiwis after the first day of the ISAF Sailing World Cup in Hyeres.
The pair picked up two wins and a fifth in the three races overnight (NZT) in patchy winds off the French coast to lead the men's 470 standings. it capped a good day for the New Zealand's 470 sailors, with Francisco Lardies and Luke Stevenson winning the final race of the day to leave them 11th overall among the 63-strong fleet.
There are 14 Kiwi crews competing in Hyeres, with Josh Junior fourth in the Finn class and Alexandra Maloney and Molly Meech, who were second in the recent World Cup regatta in Palma, were well placed in fifth in the 49er FX.
"Great day for us... 5th, 1st, 1st,'' said Snow-Hansen, who finished fifth with Jason Saunders at the London Olympics. "Conditions were a patchy 4-6 knots, with some nice sun. Tomorrow will be more of the same, with two final races in the qualification series.''
New Zealand's four Laser sailors struggled with the light conditions. Thomas Saunders, Sam Meech, Andy Maloney and Andrew McKenzie all enjoyed one good race, but consistency was a challenge.
Saunders was the best placed of the Kiwis in seventh overall.
The second and final day of qualifying will be sailed tonight before three days of finals, culminating in medal races in Hyeres on Saturday.
New Zealand standings after day one of the ISAF Sailing World Cup regatta in Hyeres, France, overnight (NZT):
Finn
4th Josh Junior (9, 2)
20th Andrew Murdoch (NZL Sailing Team) (11, 17)
49er
30th Marcus Hansen and Josh Porebski _ 49er (NZL Sailing Team) (8, 15, 22)
49erFX
5th Alexandra Maloney and Molly Meech _ 49er FX (10, 9, 1)
Laser
7th Thomas Saunders (4, 6, 13)
12th Sam Meech (NZL Sailing Team) (2, 12, 29)
15th Andy Maloney (NZL Sailing Team) (43, 4, 13)
54th Andrew McKenzie (2013 NZL Yachting Trust Youth Team) (3, 39, BFD)
100th Jack Collinson (48, 38, 41)
104th Michael Cate (51, 40, BFD)
Men's 470
1st Paul Snow-Hansen and Dan Willcox (NZL Sailing Team) (5, 1, 1)
11th Francisco Lardies and Luke Stevenson (20, 11, 1)
Nacra17
15th Tomer Simhony and Nicole van der Velden (24, 13)
24th Gemma Jones and Jason Saunders (19, 29)
- APNZ