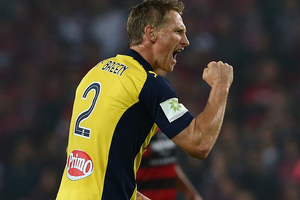 The Central Coast Mariners executed football's equivalent of shooting Bambi, depriving the Western Sydney Wanderers of the perfect finish to their fairytale first season.
But in doing so the Mariners completed a fairytale of their own, winning their first A-League grand final in four attempts to erase a history of heartbreak.
Two months ago the Mariners were in financial crisis. Players were not being paid. They had to borrow money to meet their bills and mortgages until Englishman Mike Charlesworth bought the club and saved the day.
Graham Arnold's team made Charlesworth's rescue act all worthwhile in Sunday's decider.
They scored an emphatic 2-0 victory, crushing the expectations of a 42,100 crowd at Sydney's Allianz Stadium, filled three to one by the newly fabled fans from Sydney's west waving red and black colours.
The Mariners had led 2-0 before and lost - two years ago in a nightmare finale against Brisbane Roar which was eventually settled by penalties.
But not this time.
Dutchman Patrick Zwaanswijk, 38, the oldest player to appear in a grand final, gave the Mariners the lead just before halftime, powerfully heading home a corner from close range.
Daniel McBreen settled the issue with a superb penalty after Wanderers defender Jerome Polenz had handled in the box.
Try as they might, Tony Popovic's Wanderers could not fight their way back and give the rookie coach the victory his fans craved.
But they can still take pride in their remarkable achievement of winning the league title in their start-up year.
The Mariners also deprived Mark Bridge of an extraordinary treble, as he attempted to win a third grand final, all with different clubs.
-AAP