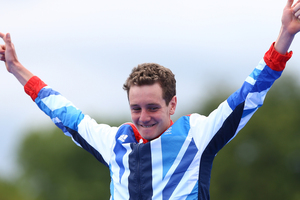 Great Britain triathlete Alistair Brownlee has smashed the field to win the latest ITU World Series event in San Diego.
The Olympic champion continues to take sport to a new level, finishing the run leg in 29 minutes 30 seconds, despite buttoning off and walking over the finish.
However Brownlee is playing down his blistering performance on the run.
"I think that run's short to honest, there's no way I did a 29:30 there. I'm sure you think I'm lying when I've only done six weeks' training but I swear I did Abu Dhabi six weeks ago and I hadn't really done much fast running up until then.''
The Kiwi athletes have failed to make the top ten, with Clarke Ellice the best, finishing in 12th position.