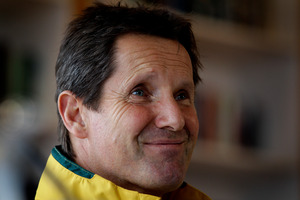 The other day it was revealed, in a vaguely shock, horror fashion, that Robbie Deans and Tim Sheens had put their heads together over a couple of trim flat whites in a Sydney cafe.
You'd have thought by the "this-is-a-big-deal" reaction to this chin wag that we were taking a few giant steps back to the dark days of rugby and league with pistols figuratively drawn at dawn.
Kangaroos coach Sheens had sounded out Wallaby coach, and former All Black, Deans for some thoughts ahead of this year's League World Cup in England.
Sheens recognised that the Kiwis - having beaten the Australians in the 2008 final in Brisbane, and dusting them 24-0 in the 2005 Tri-Nations final in England - pose a significant threat to his team in October/November.
So he's looking for ways to maximise his side's chances. Big deal, right?
Good on him. That's what smart coaches do. Assess, use or discard information as you see fit, but shut your ears to nothing.
There was a time when Deans may have been drummed out of the game for his part in this.
Invitations to rugby functions would certainly have dried up and he would have been regarded as a Fifth Columnist in rugby circles.
Does this mean that if the Kangaroos topple Steve Kearney's Kiwis at the end of the year, Deans will be fingered for his part in their downfall? Spare us.
Deans said he wouldn't have an issue helping Sheens against a New Zealand team.
"It's not a problem at all, I'm always happy to help Tim," Deans said.
Sheens has always appealed as a smart operator, and a pretty decent sort of bloke. Indeed, he revealed the Crusaders had offered him a role in their set-up when Deans was coach during their halcyon days in the early 2000s.
Instead Wests Tigers came calling. Otherwise, as Sheens put it "I would have been working for the New Zealand Rugby Union".
The Kangaroos will spend time in Cardiff and Limerick, places more rugby than league. Tapping up an experienced rugby head for any little tidbits makes sense.
The Wallabies are in the United Kingdom around the same time and Sheens reckons they'll meet up again at some point.
Heck, they might even have a steak together. Or take in a premier league match, or visit Madame Tussauds.
As little as three decades ago, rugby viewed league as the dark knights. Just think, actually paying people to play with an oval ball.
Excommunication was a given down the generations for anyone who took the filthy lucre.
The times they are a little more enlightened. There are still rugby heads who will always find league anathema, just as you don't need to go far to find leaguies who would reciprocate.
There are league devotees who won't even darken the doors of Eden Park when the Warriors are playing there. Old enmities die hard, but that does seem a case of cutting off the nose to spite the face.
A short while ago Deans also had a chat with Canberra Raiders coach David Furner. Gee, that's a worry.
Cross-pollination of ideas is something of a rage these days, the sharing of information being seen as having benefits - or at least offering fresh perspectives - all round.
Sports, you'd think, aren't exactly the poorer for that. It's grow-up time.