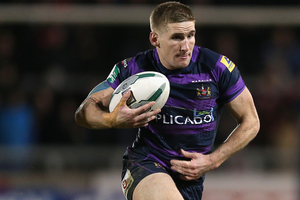 As the injury-hit Warriors suffered a further blow today, coach Matt Elliott confirmed the club are interested in signing Sam Tomkins from the English Super League.
Steve Rapira has been ruled out for the season after rupturing the ACL in his right knee last weekend, the latest in a long line of injuries for lowly NRL club.
Rapira joins fellow ACL victim Sione Lousi in prematurely ending his campaign, while utility Sio Siua Taukeiaho will be on the sidelines for up to two months after fracturing his right lower fibula. Experienced backs Dane Nielsen and Manu Vatuvei will also miss the Warriors' annual Anzac Day clash with the Melbourne Storm.
Elliott was today ruing his fortune on the injury front and said it was difficult to bring in reinforcements at this early point of the season. But one man who may be coming to the club - albeit not until next season - is the highly-rated Tomkins.
With persistent reports linking the Warriors with Tomkins, who has played 18 times for England, Elliott said such stories were not without substance.
"There's always truth to rumours,'' he said. "We're in the market for players and he's a player who's possibly on the market.
"He's not the only player we're speaking to. Obviously there's attention around him because he's got some profile in the UK. We're certainly not the only club talking to him, as well.''
The future of the fullback has long been the subject of speculation, with Wigan facing a battle from down under - and from rugby union - to retain the 24-year-old.
Having seen his older brother change codes in 2011, it was thought Tomkins could do likewise, though the Gold Coast Titans were one of a number of NRL clubs thought to be interested in keeping him in league.
The Warriors have been increasingly linked with Tomkins in recent weeks, with one report across the Tasman going so far as to suggest the New Zealand club could send players to Wigan in return for securing Tomkins' services.
Chief executive Wayne Scurrah and general manager of football Dean Bell were recently in the United Kingdom, and Elliott confirmed the pair had held discussions with Tomkins' representatives.
"It's nice for the general manager of footy and the CEO to have a holiday, a sojourn in the middle of the season,'' Elliott quipped. "But I have a feeling they were doing some work over there as well.
"It's our responsibility to our members and it's our responsibility to all our stakeholders to make sure that, when players of high quality come on the market, we're in the game of trying to get them to come to this fantastic club.
"There's a lot of players that we're talking to at the moment, and that's not because we're dissatisfied with who's here. What we want to do is we want to bolster our stocks and we want to do the right thing by our members and stakeholders.''
Elliott said that search included the NRL, the Super League and rugby union, but whether anyone is recruited to help ease the current injury crisis in another question.
"Clubs don't really look to offload at this time of year,'' Elliott said. ``It's something we are going to have to consider, though, just to bolster our numbers.
"For me - and this is my 17th season as a head coach - I've not quite experienced anything like this. I've had situations at the back end of seasons but it's been right from round one.
"We've had two broken jaws, two ACLs, two fractured legs - it's something else. It's kind of strange.''
- APNZ