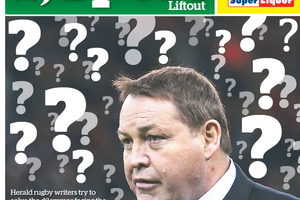 A brief look at the sports stories that are making news this morning.
In the paper
Hey Steve, here's what we'd do
The Herald SuperSport liftout has Steven Hansen on the cover as the Herald rugby panel looks at the key questions the All Blacks coach will be asking himself before naming his first squad of the season.
The hard questions
Wynne Gray, Patrick McKendry, Gregor Paul and Ian Jones all cover off the key positional selection options for Hansen and co.
Foran looks to brain not brawn to defeat rivals
Kieran Foran forged a reputation in the early years of his NRL career for his aggressive intent but now he's ready to embrace his softer side.
Not so hard
The Manly playmaker has learnt the hard way that 'kamikaze' big hits on opposition players when you are 90kg is not the smartest tactic.
Contact rules baffle the best netballers
The fierce public debate that erupted last week over the increasing physicality in netball highlighted that many fans have a different understanding of the rules to that of the umpires. But what of the players' understanding of the rules?
Say what?
14 current players give Dana Johannsen their take on the controversial ' Contact' rule.
See also
Black Sticks lucky to get slender win
Injury casts doubt on Coles' ABs campaign
60 seconds with Black Caviar
SuperShorts: Masters both stirring and snooze worthy
Overnight news
Chris Hoy retires from cycling
Six-time gold medalist Chris Hoy retired from cycling today, saying he had expended "every last ounce of effort and energy" in becoming Britain's most decorated Olympian and spearheading the country's rise to the top of the sport.
Champion effort
Hoy is cycling's most successful Olympian, having won his first gold in Athens in 2004 and capturing three more in Beijing in 2008 and another two at his home games in London last year. He also won a silver medal in Sydney in 2000.
Team NZ second after day one
Emirates Team NZ has 20 points after winning the opening race but finishing fourth in the next outing on the opening day of the America's Cup World Series in Naples.
Who leads?
JP Morgan BAR aka Ben Ainslie's sailing team hold top spot after a first and a third.
Nadal, Djokovic advance
Eight-time defending champion Rafael Nadal extended his Monte Carlo Masters winning streak to 44 matches while second-ranked Andy Murray couldn't even win four games in the third round today.
Murray out
Andy Murray was thrashed 6-1, 6-2 by Stanislas Wawrinka of Switzerland.
Coming up:
Live blog of tonight's Anzac test between the kiwis and Kangaroos in Canberra. Coverage begins 10pm.
Tracey Nelson's latest Stats Don't Lie column previews the latest round of Super 15.