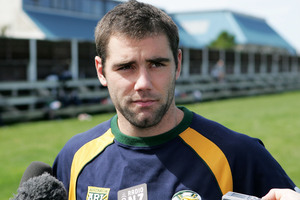 The Anzac test has been played most years since the first one in 1997 but rarely has it truly embraced the Anzac message like it has this time around in Canberra.
Both teams attended a dinner at Parliament House on Wednesday night alongside Victoria Cross and George Cross winners from both countries, including Willie Apiata, and the captains and coaches from both sides toured the Australian War Memorial yesterday morning.
"It's the first time we have really gone in depth with the whole Anzac spirit," Australia captain Cameron Smith said. "The clear message from [the dinner] was to never let your teammate down. A lot of people talk about rugby league players going into battle but compared to what they do it's minuscule.
"On Friday, we have a battle of our own but I know we want to go out and do our best for our teammates and not let them down either."
It's hard to think of a time when Smith has done that for club, state or country.
The Melbourne, Queensland and Australia captain has already had a decorated career and continues to set the standard at hooker.
Last year, the 29-year-old was judged Melbourne's best player for the fifth time, was Dally M Hooker of the Year for the fourth time, RLIF International Player of the Year (he also won the Golden Boot in 2007) and first player since 2006 to captain his club, state and country to successes in one year.
He's not a flashy player and has a similar temperament off the field, which is perfect when a game is on the line.
"You talk about the big moments in the game, he's that sort of guy others look to," Australia coach Tim Sheens said. "It was a big pair of shoes to fill, Darren Lockyer's. There have been some great people captain Australia, and I know a lot of them, and Cameron is as good a captain as I have been involved with. He leads from the front on and off the field."
Smith is rarely given a breather, something which only a handful of hookers can do, and Sheens even slotted him into lock for a period in a test last year to give Robbie Farah time at dummy half.
Kiwis utility Elijah Taylor spent considerable time this year analysing Smith when he was preparing to play hooker for the Warriors and was amazed at what Smith does, or doesn't do.
"He's never in a kick-chase, is always walking to the second wave of play and from a scrum he doesn't burst out looking for the ball carrier," Taylor said. "He takes his time. He knows the play-the-ball is going to be exactly where he's running to, which is pretty freaky to watch at times."
Smith puts his success down to hard work and constantly being challenged by Storm coach Craig Bellamy to be better. There will be a time when his pre-eminence will come to an end but it won't be any time soon.
The best of Canberra
The test is being held in Canberra to celebrate the 100 years of that city's existence, built to be Australia's federal capital in a compromise between the city burghers of Melbourne and Sydney. To acknowledge Canberra's contribution to the worlds of sport and culture, we've listed the 5 greatest things to come out of the city.
1. David Campese
Campo, the little wizard from Queanbeyan, tormented New Zealand at the 1991 Rugby World Cup and tormented a fair few of his coaches with his erratic genius. Strictly speaking, Queanbeyan is just over the ACT border and in rural New South Wales, but it's close enough.
2. The Green Machine
In the late 80s the Canberra Raiders were an irresistible mix of poise and power. Led by Mal Meninga, the Raiders had the likes of Laurie Daley, Bradley Clyde, Gary Belcher, John Ferguson, Ricky Stuart, Steve Walters and Glenn Lazarus. From 1987 to 1994, the Machine appeared in five grand finals and won three titles.
3. Five things?
Hey, who are we trying to kid.
- APNZ