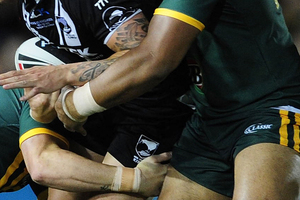 New Zealand drugs testers have swooped on the Kiwis team ahead of tomorrow night's Anzac test against Australia in Canberra.
The Daily Telegraph reported that New Zealand players and officials were stunned when a large contingent of officials from Drug Free Sport New Zealand arrived at the team hotel on Tuesday night.
"They certainly turned up in numbers,'' one Kiwi player was reported to have said.
It is understood that between "eight to 10'' players were tested.
The newspaper said the swoop shocked the Australian camp because drug-testing rarely happens during the lead-up to a test.
There have been lingering fears that ASADA investigators would interview players of interest in the current probe into peptide use during the build-up to the test, proving an unwanted distraction for the likes of Sharks skipper Paul Gallen.
The paper suggested that Tuesday night's drug tests had nothing to do with that investigation, but that some league officials saw the move as grandstanding from the New Zealand authority.
New Zealand Rugby League high performance manager Tony Iro confirmed the drug tests had taken place.
"We have no issue with it - we can see why there would be interest given the current climate,'' Iro told The Daily Telegraph.
"We work together with Drug Free Sport New Zealand all the time.
"We are tested about a dozen times a year but we haven't been tested in camp for a few years, so it was probably time it happened. We weren't that surprised and we're not worried,'' he said.
- APNZ