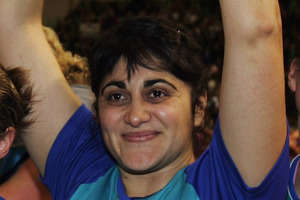 The Southern Steel have axed assistant coach Natalie Avellino after an apparent falling out with head coach Janine Southby.
The pair last year shared the co-coaching duties, but this season the franchise opted to revert back to a traditional coaching structure.
But, according to a statement from the franchise, differences in "coaching philosophies'' between the pair had caused tension, forcing the Steel to take the remarkable step of ending the arrangement four weeks into the competition.
A review conducted recently by newly-appointed Netball South chief executive Sue Clarke showed the coaching arrangement was not working effectively.
"Both Janine and Natalie agree the coaching relationship is no longer tenable and the decision has been made for Natalie to finish with the franchise,'' Clarke said.
"Ultimately it is my responsibility to have the Southern Steel operating in the best environment possible as we compete in the 2013 ANZ Championship season. This is where our energy is focused and nothing can be allowed to detract from this.
"To Janine and Natalie's credit, they have both invested a significant amount of energy into forming a constructive partnership. However, I believe we are faced with two very different coaching philosophies,'' Clarke said.
Avellino said she was disappointed with the decision.
"I have been very proud to represent Southland,'' she said. "I was looking forward to furthering my coaching and believe I had a lot to offer but felt restricted in the opportunities.''
Southby remains at the helm of the Steel team and the franchise will investigate options regarding additional coaching support for the remainder of the 2013 season.
"Understandably this is a difficult situation for all parties involved and my priority is to minimise any impact on our players,'' Southby said.